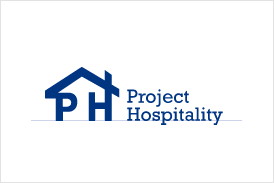 Meet our Providers: Project Hospitality
On a cold winter night in 1982, Project Hospitality began as an outreach to the hungry and homeless seeking shelter in the Staten Island Ferry Terminal. They were fed and given warm refuge from the bitter cold.  In this simple act, the work of Project Hospitality began.
Now, 30 years later, under the leadership of Reverend Terry Troia this interfaith organization has become a leading provider of comprehensive, lifesaving, direct care advocacy, and support services for persons who are homeless, hungry, and otherwise in need.  This year alone, Project Hospitality has served 1.4 million meals and assisted 26,000 Staten Islanders.
Working in partnership with the Department of Homeless Services (DHS), Project Hospitality is one of the City's only providers to operate both street outreach and shelter programs. Providing temporary, emergency shelter for families and adults who are experiencing homelessness, Project Hospitality provides an individualized approach to each household, thereby aiming to help them transition back to self-sufficiency in the community.
For more information, please visit Project Hospitality's website at www.projecthospitality.org 
To read some of the organization's success stories, visit:
http://www.projecthospitality.org/index.php?id=3