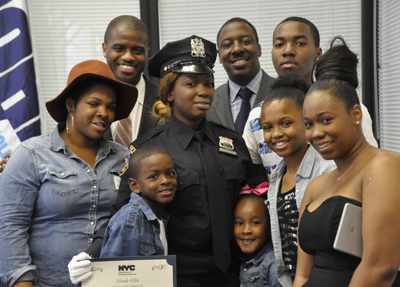 On Friday, June 26, agency officials gathered to welcome the newest graduating class of Peace Officers to the Department of Homeless Services (DHS).
Held at John Jay College of Criminal Justice, the graduation ceremony was the culmination of six weeks of intensive training for the officers, who will now reporting to posts at shelters throughout the City. Commissioner Taylor, Deputy Commissioner for Security and Emergency Operations Michael Gagliardi, Director of Peace Officers Joe Garcia, and Deputy Chief of Uniformed Personnel Marlene Hodge were also in attendance.
The distinguished officers, in their dress blues, marched proudly into the commencement, as their family and friends looked on. The officers represent a diverse range of ages and backgrounds and hail from each of the five boroughs. The officers, however, share an overwhelming desire to assist DHS clients, adults and families who reside in temporary, emergency shelter.
Debra Hairston-Parker, Director of Special Programs in the Division of Professional Studies at John Jay College of Criminal Justice, served as emcee for the celebratory event. She reflected on the outstanding achievements and dedication of the graduates.
"In your new position at DHS, you will be doing important work," said Commissioner Taylor. "Your charge is to maintain a safe environment for everyone in our shelters, including clients, staff, and each other. You must remain open-minded and fair in the way that you serve."
Following congratulatory remarks from Commissioner Taylor and Deputy Commissioner Gagliardi, NYPD Lieutenant Daniel Albano, the guest speaker, addressed the graduates. Deputy Chief Hodge swore the officers in and, along with Captain David Eddie, conferred their Peace Officer certificates. Following the ceremony, the graduates enjoyed refreshments with their family and friends.
Founded in 1993, the Peace Officers promote security within DHS facilities. Living by the motto "police with compassion," DHS Peace Officers must pledge to maintain the public peace, value human life, respect each individual and render services with courtesy, pride and civility, while displaying the highest standard of integrity.
John Jay College of Criminal Justice is a certified Police Training Academy for the Department of Criminal Justice Services (DCJS) and provides training for all newly-hired and active members of NYPD. They also offer professional development training to criminal justice professionals to meet any emerging issues, new approaches to policing, and career advancement opportunities, using innovative curricula based on the needs of specifc agencies to support their goals and objectives.