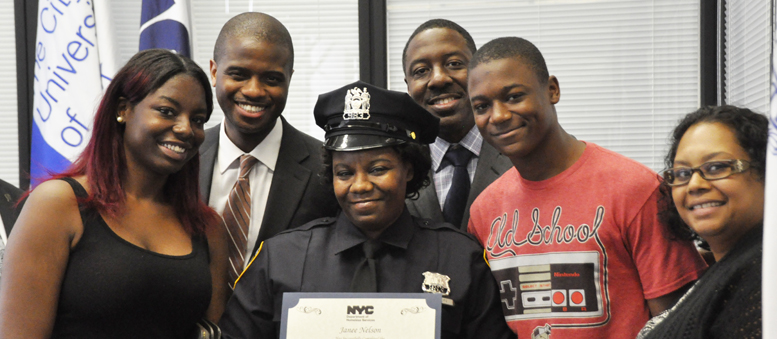 On Friday, November 22 and Friday, December 20, agency officials gathered to welcome the newest classes of Peace Officers to the Department of Homeless Services (DHS).
Held at John Jay College of Criminal Justice, the graduation ceremonies culminated six weeks of intensive training for the officers, who are now reporting to posts at shelters throughout the City. Deputy Commissioner for Security & Emergency Operations, Michael Gagliardi, Assistant Commissioner for Security & Emergency Operations, Glenn Panazzolo, Director of Peace Officers, Joe Garcia, and Deputy Chief Marlene Hodge, were also in attendance.
Marching proudly into the commencement, the more than 40 distinguished officers were clad in dress blues, as their family and friends looked on. Hailing from a variety of ages and backgrounds, the groups have been unified by their overwhelming desire to assist DHS clients- adults and families who are residing in temporary, emergency shelter.
Debra Hairston-Parker, a representative from John Jay's Office of Special and Professional Programs, served as emcee for the celebratory event, which reflected upon the outstanding achievements and dedication of the graduates.
"Although your work as Peace Officer won't always be easy, it is nevertheless important to our agency, the clients we serve, and the surrounding community as a whole," said Deputy Commissioner Gagliardi. "Here, the job isn't solely about law enforcement, but also policing within a social services framework. We must always remember that we are here to protect and serve New Yorkers in crisis, and it takes a special person to fulfill those duties."
After hearing remarks from several of their professors, the officers were awarded their diplomas, which they received with a salute from Captain David Eddie. Following the official ceremony, the graduates enjoyed lunch with their family and friends.
Under the direction of Agency Medical Director, Dr. Dova Marder, each class of officers is also trained to administer critically-important doses of Naloxone to shelter clients who have overdosed - thereby saving dozens of lives as they put this instruction into practice.
Founded in 1993, the Peace Officers (now approximately 400-strong) aim to promote security within DHS facilities. Living by the motto, "policing with compassion," DHS' Peace Officers must pledge to maintain the public peace, value human life, respect each individual and render services with courtesy, pride and civility, while displaying the highest standard of integrity.