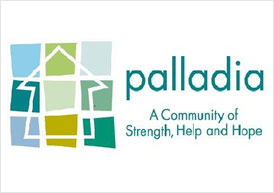 Meet our Providers: Palladia
Since its inception in 1970, Palladia has sought to improve the lives of New Yorkers− providing a supportive environment for individuals to grow, heal, stabilize and become productive members of the community. Working in conjunction with the Department of Homeless Services (DHS) and other partners, Palladia serves nearly 2000 clients per day, through 31 distinct programs, demonstrating its extraordinary evolution and growth over the past four decades. In addition to providing homelessness prevention services and temporary, emergency shelter to households experiencing a crisis, Palladia also offers residential substance abuse treatment, outpatient and transitional treatment, alternatives to incarceration, permanent supportive housing programs and a wide range of other special initiatives and collaborations, all designed to assist individuals and families in need. In Fall 2013, Palladia's continuum of services will expand once again when the agency's opens its first licensed mental health clinic, serving low-income patients in Central Harlem, East Harlem and the South Bronx.
Sharing DHS' commitment to homelessness prevention efforts, Palladia operates one of the City's 14 Homebase offices, located in the East Harlem neighborhood of Manhattan. By offering customized assistance, including personalized housing stability plans, and services such as eviction prevention, short-term emergency funding, financial counseling and help in obtaining employment and public benefits, Homebase strives to keep families stably housed whenever possible.

Palladia also operates three DHS shelters, located in the boroughs of Manhattan and the Bronx. Employing a comprehensive, social services-based approach, Palladia helps homeless New Yorkers to identify and address specific barriers to housing−ultimately helping them transition to permanent, stable housing. Deeply rooted in the notions of "strength, help and hope," the organization aims to aid its clients build safer, stronger and personally rewarding lives.
Since its inception, Palladia has served hundreds of thousands of clients from all five boroughs of New York, equipping them with the necessary tools to achieve independent living in the community.
To learn more about Palladia, visit http://www.palladiainc.org/Public/.