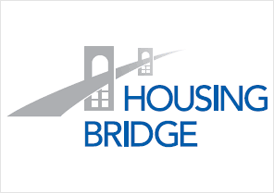 Meet our Providers: Housing Bridge
Like so many of the Department of Homeless Services' (DHS) highly-respected, non-profit providers, Housing Bridge prides itself on being able to help clients quickly move to permanent housing. Established in hopes of bringing "new dimension and creativity" to the field of homeless services, this organization currently operates 16 facilities, serving more than 580 families with children, in the boroughs of Brooklyn, Manhattan, Queens and the Bronx.

Surrounding clients with a supportive, social services-rich environment, Housing Bridge aims to help families transition quickly into permanent housing through a series of comprehensive, integrated on-site programs. Employing an individualized approach for each household served, the organization tailors assistance toward the unique and varying needs of clients, thereby paving the road for them to overcome barriers to housing and gain a new lease on life.

In addition to extensive case management, Housing Bridge works with government agencies and neighborhood groups to connect clients to entitlements and housing search assistance, while also maintaining educational and recreational programming for children. Housing Bridge also has a unique in-house employment placement service, which prepares clients for the work environment and finds them jobs. Above all else, Housing Bridge works with DHS to help homeless New Yorkers stabilize and successfully return to self-sufficiency in a positive and meaningful way.

To learn more about Housing Bridge, visit http://www.housingbridge.org.