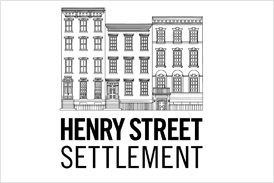 Meet Our Providers: Henry Street Settlement
Founded in 1893 by progressive reformer Lillian Wald, Henry Street Settlement provides social services, arts and health care programs to New Yorkers from 17 sites on Manhattan's Lower East Side.
Today, as one of DHS' contracted providers, Henry Street operates three transitional shelters: two facilities for families, and one for single adult women. Each shelter offers a seamlessly integrated and comprehensive on-site social services program, which aims to help residents restore and rebuild their lives while managing their housing crises. On-site services include case management, as well as housing and employment assistance.
When it opened in 1972, Henry Street's Urban Family Shelter – which celebrated its 40th anniversary in 2012 -- was the first family shelter in the nation to house families in individual apartments and provide 24-hour on-site social services to help families through their state of homelessness and transition into permanent housing.  It has since served as model for shelters throughout the country. 
Additionally, the Helen's House Shelter serves single parents and their pre-school-aged children, and the Third Street Women's Shelter provides temporary housing to single women with mental health issues.
Furthermore, supplementing the services they receive on-site, shelter residents also benefit from Henry Street's other programs, including day care, after-school and summer camps; youth education and employment services; workforce development and computer training; mental and primary health care services; and arts performances and training.
For more information about Henry Street Settlement, please visit www.henrystreet.org. You may also 'like' the organization on Facebook (Facebook.com/henrystreetsettlement), follow it on Twitter (Twitter.com/henrystreet) and/or view a four-minute video about the agency at http://www.youtube.com/watch?v=I579DMxTdxo.