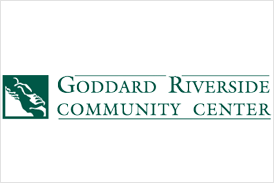 Meet Our Providers: Goddard Riverside Community Center
As one of New York City's leading human service organizations, Goddard Riverside Community Center works to meet clients' basic needs – providing food, shelter and education – while never failing to celebrate diversity and the richness of society. As it achieves these goals, the agency is committed to reducing and overcoming cultural, ethnic and racial divides, and embracing individuals of all ages, sexualities and personal circumstances. Goddard Riverside's programs are catalysts for social and economic change, thereby striving to advance a vision of a more just and compassionate world.
With deep roots in the tradition of neighborhood-based social services, Goddard Riverside is one of the City's historic settlement houses. Through 27 programs at 22 sites, primarily on the Upper West Side, individuals of all ages and backgrounds are engaged through a variety of offerings, including those for: children, youth and families; homeless individuals; older adults; those with mental illness; and tenants in need of advocacy or legal assistance. Goddard Riverside also develops and manages affordable housing, and organizes a range of community arts and events.
Goddard Riverside has been a pioneer in the field of homeless outreach and services since the 1970s. Today, through a contract with the Department of Homeless Services (DHS), Goddard Riverside Community Center serves as the single point of accountability for all homeless outreach and housing placement services in Manhattan. Acting as the lead agency in the Manhattan Outreach Consortium (MOC), Goddard Riverside also works with the Center for Urban Community Services (CUCS), Common Ground, and Urban Pathways to help unsheltered individuals transition from the streets into housing. This goal is best achieved by dividing the borough of Manhattan into five catchment areas, allowing each MOC member organization to address homelessness in familiar neighborhoods. In addition to providing administrative and fiscal oversight of MOC, Goddard Riverside is responsible for outreach services in two catchment areas: 110th Street to 59th Street east to west (including Central Park), and the lower part of Manhattan below 10th Street. 
Street outreach is not always an easy job; yet, the strides that Goddard Riverside and other outreach providers take remain of vital importance to the clients served by DHS, and the City as a whole. Highlighting the importance of street outreach efforts, Goddard Riverside is also responsible for a Special Initiative team, all 311 dispatches, and night-and-weekend outreach services for the entire borough of Manhattan. Assuming its duties as the lead organization of MOC, Goddard Riverside coordinates service delivery among its partners to eliminate duplication and to facilitate the sharing of information and continuity of care. Quality outreach and case management services are paramount to the strength of the initiative with measured performance objectives and accountability closely monitored. MOC has proven to be a very successful model for addressing street homelessness in New York City; since the program began in September 2007, more than 1,500 of Manhattan's chronic street homeless individuals have been placed into transitional and permanent housing.  This approach has truly ended homelessness and, been live-changing, for many New Yorkers in need.
In addition to the services outlined above, Goddard Riverside offers 419 units in its four supportive housing residences for formerly homeless individuals, and operates three programs that provide additional support. These include The Other Place (TOP), a psychosocial day program that teaches daily living and social skills, and helps build self-esteem and foster creativity through art, music, and drama therapy; TOP Opportunities (TOPOP), an employment training and placement program; and the Assertive Community Treatment (ACT) Team, a mobile clinic that works with individuals who have been diagnosed with severe and persistent mental illness.
To learn more about Goddard Riverside Community Center, please visit the organization's website at: http://goddard.org/