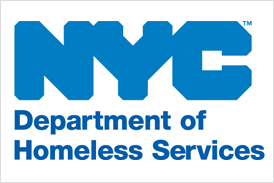 As one of four directly-operated sites within DHS' Division of Adult Services, Linden shelters a total of 67 single adult men, providing comprehensive social services to each individual who enter its doors. Utilizing a vast network of resources throughout the City, Linden also refers and links clients to a range of outside resources, including medical and mental health treatment, substance abuse treatment, vocational and employment services, veterans' services, services for senior citizens, child support modifications and more- based on the needs of each household. By focusing on these specific barriers to housing, Linden can help each client overcome challenges and successfully transition back to self-sufficiency.
As Linden continues to serve its clients, it has also achieved the following victories:
Employment - From October 2012 through October 2013, Linden has obtained varied employment for approximately 30 percent of the client population. By helping New Yorkers in shelter secure jobs, they more easily move back to the community.
Housing - In the same year period, Linden has also had tremendous success with helping individuals transition back to the community- placing 72 percent of clients into housing. The site has also decreased the number of long-term-stayers (individuals who have spent prolonged periods in shelter) from 29 to just eight clients.
Throughout its day-to-day work, Linden makes a difference in the lives of homeless New Yorkers, and offers a compassionate and resourceful environment for clients to regain their footing. Under the direction of DHS, and with tremendous dedication from shelter workers and front-line staff, Linden continues to be an asset as it aids more individuals to move back to the community.