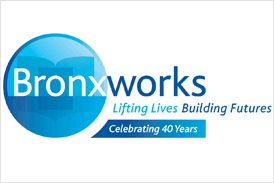 Meet our Providers: BronxWorks
On Monday, December 10, Department of Homeless Services (DHS) Commissioner Seth Diamond joined non-profit provider, BronxWorks, to celebrate the organization's 40th anniversary.
Founded in 1972 as the Citizens Advice Bureau (CAB), BronxWorks has, over the course of four decades, proudly and vigorously served the Bronx community with a variety of programs, including those pertaining to workforce development, senior services, eviction prevention assistance and homeless services.
As one of DHS' contracted partners in the Bronx, BronxWorks is well-versed in the field of homeless services, and manages an expansive portfolio of programs that tailor assistance toward unique populations of clients, accordingly.
For example, through its Homeless Outreach Team (HOT), BronxWorks has spearheaded outreach efforts in the borough− engaging individuals who are living on the streets 24 hours per day, seven days a week, and helping them transition into housing. As a result of this work, the Bronx has seen a 71 percent reduction in street homelessness between 2005 and 2012 – an outstanding accomplishment by any measure.
Throughout its venerable history, BronxWorks has remained committed to improving and enriching the Bronx community, and to equipping residents with the tools they need to address and overcome an array of housing and income issues. As a regional operator of Homebase − DHS' Citywide homelessness prevention program− BronxWorks helps families and individuals avoid shelter and remain stably housed in the community whenever possible.
In instances when homelessness cannot be prevented, BronxWorks also provides temporary, emergency shelter for families with children who have no alternative housing options available to them. In partnership with DHS, BronxWorks caseworkers and shelter staff work closely with each household to outline clear goals and identify a path back to self-sufficiency. Through this established and individualized approach, the organization positively impacts the lives of each family, as they take active strides toward independent living in the community.
No matter what their situation or background- individuals and families who come to BronxWorks are received with kindness, respect and understanding. From the youngest of Bronx residents, to the oldest, BronxWorks aims to feed, shelter, teach and support clients in hopes of building an even brighter and stronger Bronx community.
To learn more about BronxWorks, visit its Web site here: http://www.bronxworks.org/index.php 
Read recent coverage from the New York Daily News here: http://www.nydailynews.com/new-york/bronx/bronxworks-celebrates-40th-anniversary-article-1.1217136