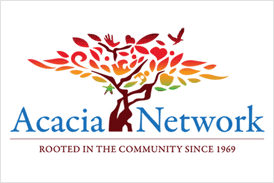 Meet Our Providers: Acacia Network

Working with non-profit providers, the Department of Homeless Services (DHS) operates a comprehensive shelter system that tailors services toward unique populations of clients, including single adults, families with children and adult families.
Rooted in the community since 1969, Acacia Network manages 750 individual family units and four buildings for approximately 550 homeless adults. Partnering with DHS, Acacia provides clients with immediate attention and resources to achieve their specific housing goals, thereby helping them obtain employment and return to self-sufficiency in the community. At shelters operated by the Acacia Network, clients benefit from a range of services offered on-site, including case management, mental health support, vocational counseling, housing placement, health care coordination, advocacy, recreation, referrals for community-based services and education/ training workshops. Furthermore, all clients are integrated into the larger Acacia Network and are linked to the organization's healthcare, social services and economic development projects. 
In addition to providing temporary, emergency shelter, Acacia remains extremely dedicated to the health of New York City neighborhoods−operating six licensed family health centers in the Bronx, which provide physical exams, medical diagnosis and care, pediatric care, dental care, psychiatric evaluation and medication monitoring, social work, information and health education, and wellness for all ages. The organization is particularly attentive to children, women, seniors and the management of chronic illnesses, such as asthma, hypertension, hepatitis and HIV; along these aims, the network also offers the Charles A. Laporte Mobile Primary Health Care Clinic− a doctor's office on wheels equipped with two examination rooms.
Above all else, Acacia Network prides itself in promoting recovery that is responsive to the cultural needs of the community, offering personalized care that is built on the principles of trust, respect and dignity.  As Acacia staff members support each person to achieve a healthy, balanced lifestyle, the network offers the following bilingual programs: Adult Inpatient Detoxification; Adult Short-term Inpatient Rehabilitation; Residential Substance Abuse Treatment for Men, Women, and Youth; and Outpatient Substance Abuse Treatment with Special Programs for Youth, Adults, and Seniors.
For more information on all of Acacia Network's programs, please visit its Web site at
www.acacianetwork.org
.