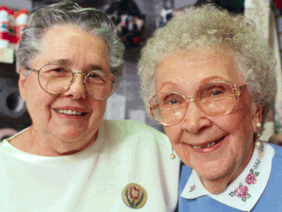 Many seniors volunteer in their communities as a way of "giving back" to society in gratitude for the supports they themselves have received. It now appears that in addition to "giving back," these seniors reap many benefits from volunteering. Evidence is accumulating that older persons who volunteer tend to live longer and live better. The sense of satisfaction in "serving," the meaningful connection to others, the pleasure in having something interesting to do each day – all these have a positive impact on health and vitality.
If you're wondering what you can do to "give back," or if you miss a sense of vitality in your own life, you might seriously consider volunteering as your next great endeavor.
By turning to volunteerism as a source of stimulation and challenge, you not only would be joining an increasing number of your peers, you would find a City that welcomed your service.
Finding the Right Volunteer Opportunity
NYC Service is a New York City initiative to promote service and help volunteers address the City's greatest needs. When visitors to the NYC Service website enter their interests and desired location, they are directed to opportunities.
New York Cares is the City's largest volunteer organization. It recruits, trains and deploys teams of volunteers for more than 370 partner organizations.
NYC Arts is a comprehensive guide to the arts in New York City, including volunteer opportunities in the arts in every borough.
Volunteer Match lists volunteer opportunities in cities across the country by location and key words.
Create the Good was developed by AARP. Site helps visitors find out how they can "create the good."
Community Service Programs Specifically for Older Persons
The Foster Grandparent Program is a National Service Senior Corps Program. Housed at the NYC Department for the Aging, it places income-eligible persons 55 years and older in settings where they provide love, guidance, and reading and arithmetic help to at-risk children. Volunteers earn a stipend.
The Retired Senior Volunteer Program (RSVP) is a National Service Senior Corps Program. Housed at the Community Service Society, RSVP provides a variety of service opportunities for New Yorkers 55 years of age and older.
Senior Companions is a National Service Senior Corps Program. Companions must be at least 60 years of age and income-eligible. They assist clients with paying bills, grocery shopping, friendly visiting, etc. The program is housed at Henry Street Settlement.
Experience Corps is a national organization that engages older adults as tutors and mentors to children in grades K-3.
Other Opportunities for Volunteers of All Ages
NY State Ombudsman Program trains volunteers to serve as advocates for residents of nursing homes and adult care facilities.
NYC Health Insurance Information Counseling and Assistance Program trains volunteers to provide one-on-one phone and in-person assistance understanding and enrolling in Medicare and Prescription Drug Plans. Call (212) 602-4387. Read about HIICAP Volunteer Training and Placement.
Safe Horizon Mediation Program trains individuals to be volunteer mediators helping people resolve conflicts in community and court settings.
Manhattan: (212) 577-1740.
Brooklyn: (718) 834-6671.
Visit the Annual JASA Volunteer Ventures Expo in June
JASA presents a free conference and volunteer opportunities for adults 50+ every June in association with UJA-Federation of New York, New York City Department for the Aging, NYC Service, New Yorkers Volunteer/State Commission on National and Community Service, Retired Senior Volunteer Program, New York Cares and The Transition Network.
Join TimeBanksNYC
TimeBanksNYC is an online clearinghouse where New Yorkers can find opportunities to give or receive services based on the age-old concept of neighbors helping neighbors. For every hour that timebanking members provide a service or share a skill with another TimeBanks member, they earn a time credit they can redeeem for services they want to receive. Among the twelve categories of timebanking exchange are arts, crafts, music and recreation; help for home/office; repair and maintenance; companionship and computer/internet technology. Anyone can register and fill out a membership profile.
Join ReServe, Inc.
ReServe, Inc. is a not-for-profit organization that places retired professionals and other skilled retirees in compensated part-time community service positions where their skills and talents are specifically needed.