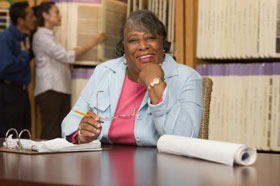 Workforce1 Centers
If you want to find a new job, re-enter the job market or upgrade your skills, New York City's Workforce 1 Career Centers offer workshops and preparation courses on a variety of topics to improve your employment prospects. Plus, the Centers offer access to career advisement, skills and job training, tools that support a comprehensive job search and connection to other free services.
Workforce 1 Centers are located throughout the five boroughs. They do not charge for services, and there are no income, citizenship or residency requirements. New York's centers are operated by the Department of Small Business Services in coordination with the New York State Department of Labor and the City University of New York.
Senior Employment Services
If you're over the age of 55 and meet income eligibility requirements (low to moderate income), you can access training and job placement assistance while you earn a wage through the federal government's Senior Community Services Employment Program (Title V). The largest of the Title V programs in New York City is offered by the NYC Department for the Aging Senior Employment Services Unit (SESU). SESU recruiters are stationed at the Workforce 1 centers to ensure senior access to this program and Workforce 1 services are available to all SES enrollees.
You can access DFTA's employment services directly by calling 311 and asking for the Department for the Aging's Senior Employment Services. You can also visit Senior Employment Services (see location below).
SES has almost three decades experience placing older workers in jobs in data processing, electronic offices, customer service, food service, security services and homecare. SES prepares trainees for employment through classroom training on computer and customer service skills, job search techniques, interviewing and resume writing. In addition, most trainees receive on-the-job training through subsidized placement at government agencies and not-for-profits throughout the City. Trainees meet regularly with career counselors to discuss their goals, concerns and progress. Job fairs, employer referrals and placement assistance help trainees find permanent employment.