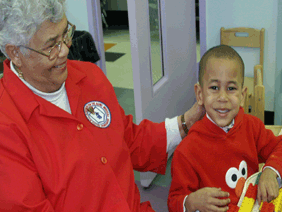 If you love children, can give 20 hours a week of your time and would appreciate a modest stipend for volunteering, the New York City Foster Grandparent Program may be the volunteer opportunity you are looking for.  You will work one-on-one in a setting and location of your choice to improve the lives of at-risk children. Settings include hospitals, day care programs, Head Start, elementary schools and after-school programs. You can even mentor troubled teen-agers or work with children of incarcerated parents.
As a Foster Grandparent, you will help your assigned "grandchildren" with developmental and learning tasks, like reading, arithmetic and other school skills. But you will also be doing something even more important. You will be providing the love and care your at-risk "grandchildren" need and often do not get from their families. By encouraging their confidence and sense of self-worth, you will be changing their lives and giving them the chance to grow up to be happy and productive adults.
The Foster Grandparent Program is part of the National Senior Service Corps that offers low-income older Americans across the country opportunities to "give back" to their communities. New York City's Foster Grandparent Program is managed by the New York City Department for the Aging. In addition to receiving a modest tax-free stipend, Foster Grandparents receive reimbursement for transportation, a daily meal during service, an annual physical examination and accident and liability insurance while on duty.
Call 311 to contact DFTA's Foster Grandparent Program.