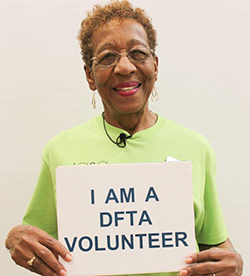 Volunteering is a great way to make a difference.
Every day DFTA volunteers make an extraordinary impact in our communities by leading health and wellness activities, and providing vital health insurance counseling and money management assistance. DFTA provides many opportunities for older adults, and people interested in working with seniors, to enjoy the experience of helping our fellow New Yorkers.
For people who volunteer, the benefits are life changing. Research has shown that volunteers are rewarded with greater health benefits, life fulfillment and a deeper connection to their communities and to others. Volunteering is also a great way to develop new skills and talents.
* EFFECTIVE JUNE 2017, ALL PROSPECTIVE VOLUNTEERS MUST PASS A BACKGROUND CHECK.