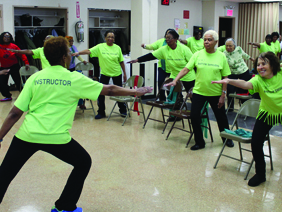 STAY WELL Exercise Volunteer
It is widely known that exercise leads to a healthier heart, stronger bones and increased flexibility. For seniors, exercise is even more impactful. Results include slower mental decline; delay or prevention of disease; improved psychological well-being; and increased life expectancy.
Help make a difference in the health of New York City's senior population by becoming a volunteer in the STAY WELL exercise program. As a volunteer, you will lead exercise classes at a local senior center using STAY WELL's comprehensive curriculum. Classes enhance balance, cardiovascular health and build muscle strength.
If you are a dependable, punctual and motivating person who also enjoys exercise, this is an opportunity to do something good for yourself and your community. Since training is provided, prior fitness training experience is not necessary.
STAY WELL is currently looking for volunteers to be placed in the following sites:
Tasks:
Lead a weekly exercise class at a senior center using STAY WELL's comprehensive curriculum
Uphold the values of the STAY WELL Program
Requirements:
Demonstrate strong leadership and motivational skills
Dependability and punctuality
Possess good interpersonal skills
Ability to build rapport in a small group setting
Ability to demonstrate an approach to exercise that is both enthusiastic and encouraging
Ability to work with participants possessing various levels of fitness
Attend a DFTA Volunteer Information Session
Skills Preferred:
Ability to speak languages other than English desired (preferably Spanish, Russian or Chinese), but not required
Having faith in participants' ability to make lifestyle changes is a plus
Training:
Must participate in program training
After training, volunteers will have to demonstrate knowledge of STAY WELL and an ability to work with groups while conducting a class
Time Commitment:
Volunteers serve weekly, flexible days Monday-Friday, and flexible hours between 9:00am-Noon
Sessions range from 30-60 minutes depending on the group's abilities
Being available to serve multiple times a week is highly desirable
On average, volunteers serve 3-4 hours a month
Minimum one year commitment strongly requested