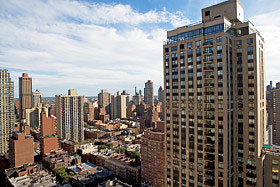 NORC Programs
Older residents of many of the City's NORCs can access health and social services right in their own building or building complex. "NORC" is short for Naturally Occurring Retirement Community. A NORC is a multi-age housing development or neighborhood that was not originally built for seniors but that now is home to a significant number of older persons.
Supportive Services Programs in NORCs aim to maximize and support the successful aging in place of older residents. Each offers preventive health and wellness activities and almost all participate in a Health Indicators Initiative developed by the United Hospital Fund and now administered by the Department for the Aging. As Initiative participants, these programs identify the major health risks among the elders they serve and develop programs to improve their NORC community's health status.
In addition to their focus on health promotion, Supportive Service Program provide case management services, classes and educational activities, trips, volunteer opportunities and opportunities to be part of NORC governance.
NORC programs are public/private partnerships in which the Department for the Aging, the United Hospital Fund, the housing entity, local community service providers and NORC residents themselves all play a part.