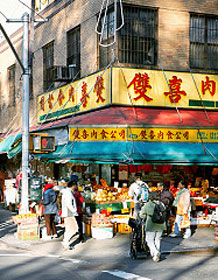 Service Resources
If you are one of the almost half a million older immigrants living in New York City, the Mayor's Office of Immigrant Affairs can help you with information and resources. A directory of community-based organizations staffed by people who speak your native language and are able to address your specific needs is available on its website. You can also get information about benefits and entitlements you might be eligible for regardless of your status, find links to educational and housing resources and check the status of your pending application to the US Citizenship and Immigration Services (formerly the INS). Call 311 to be connected.
Visit the Mayor's Office of Immigrant Affairs
Educational Resources
The Mayor's Office of Adult Education offers a directory of free classes in English for non-native speakers, basic reading and writing, GED test preparation and career and technical education at locations throughout the City. These classes are open to everyone, and you do not need to show proof of citizenship.
We Are New York is an Emmy-award winning half hour TV show developed by the Mayor's Office of Education for people learning English. Each week, a new story shows people speaking English in important and realistic situations, like going to the doctor or talking with a child's teacher. The characters speak the English of everyday life but they speak a little slower than the average English-language television show. The show also has subtitles in English, helping people to understand and learn the language.
Visit the Mayor's Office of Adult Education
Find an adult education program in your borough
Find out more about We Are New York
Join a free conversation group in your community
Social Resources
The City's senior centers are welcoming places for older New Yorkers of all backgrounds. There you can gather with other immigrants your own age, participate in celebrations of holidays that are meaningful to you, make new friends and enjoy new experiences.
Locate a Senior Center in your borough
Other Resources for NYC Immigrants
Get answers to important questions online and find an immigrant services provider in your area through Resources for NYC Immigrants.
Resources for NYC Immigrants