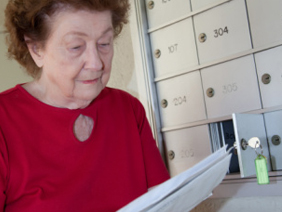 Carrier Alert
If you live alone, you or your loved ones may worry that if you fall or are taken ill, no one will know you need help. Carrier Alert is a voluntary program that can help put your mind at rest.
When you enroll in Carrier Alert, you provide the Department for the Aging (DFTA) with your address, phone number and information about how to reach your emergency contacts. You also authorize your mail carrier to alert 311 if mail accumulates in your mailbox without explanation. Once 311 is "alerted," the 311 operator notifies DFTA. DFTA then calls your emergency contacts - and if necessary your super or even the police - to ask them to make sure you are safe and well.
Documents below are in PDF format. Click here to download the latest version of Adobe Reader.