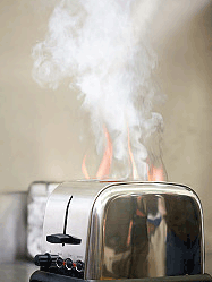 According to data from the U.S. Consumer Products Safety Commission, the percentage of adults 75 years of age and older entering hospital emergency rooms with consumer product-related injuries that happened at home is increasing at an alarming rate. Falls associated with consumer products – beds, bathtubs, garden equipment, ladders, step stools and loose carpets, to name just a few - account for three quarters of emergency room visits by people in this age group.
Kitchen accidents, burns, smoke inhalation and accidental poisoning from household chemicals can also send seniors to the hospital.
Don't invite an accident in your home. Luckily, many of the hazards that result in home injuries are easy to fix. Use one or more of the many checklists available to help you spot possible safety problems that may be present in your home.
Above all, have emergency numbers posted on or near your telephone along with a neighbor's phone number. Also, be sure you can access your phone if you fall and can't get up or experience some other emergency that prevents you from standing and reaching a wall phone.