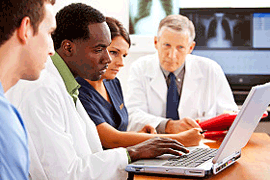 Palliative care is a unique medical specialty that takes a holistic and integrated approach to supporting patients and their families. An interdisciplinary team − physicians, social workers, nurses, therapists and others – works together not only on treatment goals for the patient they have in common but also on relieving the patient's pain, easing transition from one setting to another, and addressing the family's worries and concerns.  Savvy older New Yorkers know that they should tell their doctors they want to receive palliative care as soon as they are diagnosed with a serious illness.
It can be accessed at any time but it works best when it begins in the early stages of an illness, along with curative treatments. Curative treatments and palliative care complement each other.
It is not the same thing as hospice care. In fact, hospice is only one type of palliative care, focused on providing quality care to people in the last months of life who have decided to stop treatments.
Palliative care has been shown to actually prolong life.
People shouldn't wait for their doctor to suggest palliative care but should take the initiative themselves.
Palliative care is available throughout the City's Health and Hospitals Corporation (HHC) facilities as well as in other settings across the five boroughs.
Read more about Palliative Care at HHC facilities
Find other Palliative Care Programs in your county
Resources to Help You Understand Palliative Care
The Center to Advance Palliative Care is a national organization located in New York. Its website provides clear, comprehensive palliative care information for people coping with serious, complex illness. Key components of the site include a Palliative Care Directory of Hospitals and a detailed description of what palliative care is and how it is different from hospice care. It also provides an interactive questionnaire to assist people in determining whether palliative care is appropriate for them or their loved ones.
Palliative Care Prolongs Life, Reduces Suffering appeared in USA Today in early 2011.