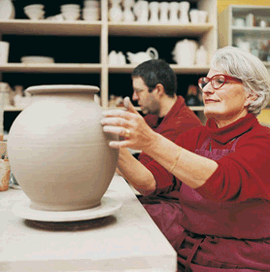 You're active and vital, and you live in a city that is full of interesting things to do. If you desire, you can be "out and about" 24/7.  Whether it's exploring New York's neighborhoods, visiting a museum, taking part in a health fair or signing up for a course – all around you are enticements to participate in the exciting life of the City. There are also many wonderful things to do geared just for seniors.  Some useful guides to everything from services to entertainment are listed below, along with links to information about activities for older persons at local libraries, the City's parks and recreational areas, colleges, universities and museums.
Events and Things to Do Guides
Senior Planet Resource Exchange helps you get information about services, educational programs, senior-friendly entertainment and much more. Plus, you can check out your favorite hobbies and pastimes and look for things to do in New York City that interest you.
Senior Planet Events Calendar makes it easy to stay current on discounts, special events and social happenings for older adults. The events calendar will give you new reasons to get out of the house every week!
The Official New York City Guide to Attractions (NYCGO) lists "top events," "what to do" and "free events" among other features.
NYC ARTS, developed by the Alliance for the Arts, is a comprehensive resource for information about culture in New York and a gateway to other cultural resources. The NYC Arts Cultural Guide for Seniors provides information about cultural groups in each borough that offer programs for senior citizens and senior groups.