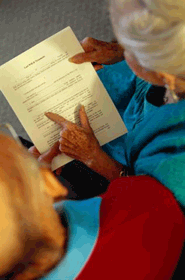 It's important to provide your loved ones with clear instructions on how they should manage your health care if you're ever not well enough to speak for yourself. Completing advance directives such as a living will now will let those dear to you know your wishes about medical treatment should illness or incapacity prevent you from directing your own care in the future.
It's also important to name a health care proxy, who knows s/he would be in charge of your care if the time ever comes when you can't direct it yourself. Your proxy would help to make specific care decisions consistent with your overall wishes.
A POLST (Physician's Order for Life Sustaining Treatment) is another form to have ready "just in case." The POLST was developed for use by emergency medical personnel. It summarizes your advance directive decisions but also serves as a physician's order directing EMS personnel to carry out those decisions. It would accompany you should you need to be admitted to a medical facility and would be used to inform your doctors of your treatment preferences until additional advance directive information is obtained.
Also don't forget to create a will spelling out how you want your estate managed and distributed in the event of your death. Even if you think you haven't much to leave, it's important to have a will for your own peace of mind. Your family will have enough grief and stress upon your death. You don't want to add to their distress by leaving them with your unresolved estate issues. 
Family Caregiver Alliance offers fact sheets in English, Spanish and Chinese that answer a number of common questions and links to other resources.
Caring Connections of the National Hospice and Palliative Care Organization provides downloadable state-specific living will and healthcare power of attorney forms.
POLST Paradigm provides information about and examples of POLST forms.
Full Circle of Care offers articles and useful checklists on a variety of topics related to end-of-life planning.
Five Wishes (in pdf) is an easy-to-complete form that helps you say exactly what you want. Once fill-out and properly signed, it is valid in most states.
Nolo provides legal forms and legal software in Plain English for downloading.
HospiceNet is a website for patients and families facing life-threatening illnesses.
Your Life, Your Choices (in pdf) is a comprehensive workbook designed to help users think about end-of-life issues and develop advance directives.
Caring Conversations (in pdf) is a workbook from the Center for Practical Bioethics that helps you approach difficult conversations with loved ones on end-of-life planning.
The New York City Department for the Aging has developed several interactive online tutorials to help seniors and caregivers plan ahead.