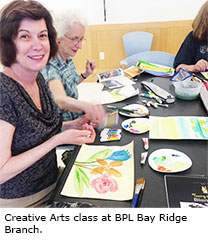 Like other public libraries, the Brooklyn Public Library (BPL) is shedding its "quiet reading room" image. Older people in particular are being enticed to BPL and its branches through fun and educational activities that range from computer classes to Exergamer bowling and from creative arts workshops to movies, bridge clubs and discussion groups.
If you're homebound or have a visual impairment, the library will come to you. You can have books, and audio and videotapes mailed to your home. BPL's Book by Mail program has 395 subscribers and a circulation in the thousands. Staff not only mails out books, they also get to know their subscribers. Some subscribers call more than once a day to ask for recommendations. The library also delivers large print books, videos and audio books to senior centers and assisted living and adult day care facilities every four to six weeks.
One outstanding BPL program last spring trained older adults and library staff to conduct interactive poetry activities for persons with dementia. The six session training was led by poet Gary Glazner, founder of the Alzheimer's Poetry Project and creator of the Memory Arts Café. Eighteen regulars participated in the program and about 70 attended the Celebration of Creativity at the Memory Arts Café when the workshop ended.
Through a partnership with Lifetime Arts, an organization that promotes professional arts programs for older adults, BPL is also able to offer creative aging activities at the Central Library and four branches. Last season, Midwood, Bay Ridge and Central offered painting classes. The New Utrecht branch had a poetry and collage class. Dyker's choral group recently sang "You Gotta Have Heart" at a Brooklyn Cyclones game in Coney Island. The participants of a previous year's Lifetime Arts' creative aging program at Kings Highway Library were so inspired by their class that when it ended they decided to continue their memoir writing without their teaching artist.
Another successful BPL partnership last spring – with the Moth, an organization dedicated to the art and craft of storytelling – led to an evening of performance and storytelling by eight older members of the Mill Basin Library.
An ongoing BPL project aims at collecting a broad range of stories about the borough by tapping into the memories of older Brooklyn residents. Although located at the Leonard, Kings Bay and Flatbush branches, "Our Streets, Our Stories" welcomes both interviewers and interviewees from all over the borough to participate by calling 646-831-2705.
"Some programs just take off on their own," according to Judith Kamilor of BPL's Services for Older Adults Department. She points to "Talking Needles" at the New Utrecht branch – a knitting, crocheting, crafting or just coffee klatching program – as an example. "It sounds simple enough, but it really provides so many chances to enhance lives," Kamilor says. "There are multiple opportunities for people to get something out of this program, including donating yarn, hosting the actual program, attending the program and creating hats/blankets/dolls and other items and donating them to places such as Veterans Hospitals. It feels so good to know you've provided a conversation starter when a passerby notices the beautiful hand-made blanket on a veteran's bed."
Readers can learn more about BPL's programs for older adults on the seniors' page of the Library's website where they can also link to the library's Senior Moments Blog, get information about upcoming events and enjoy interviews, memoirs and other features.