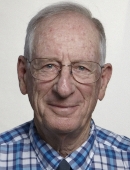 It is with sadness that DFTA marks the passing of the Chair of its Senior Advisory Committee, Dr. Philip Brickner, who died March 24 at the age of 85. Dr. Brickner is mourned by colleagues around the country, as well. Founder and Chair of the Department of Community Medicine at St. Vincent's Hospital in Greenwich Village, he was a nationally recognized and highly respected pioneer in bringing medical care to the homeless and other vulnerable populations at shelters, SRO's, drop-in centers and free clinics.
Dr. Brickner's program was one of the earliest in the country to focus on homeless men and women, illegal immigrants and frail seniors living in poverty. Today, close to 240 programs operating across the United States are based on the model he established at St. Vincent's.
Perceiving that many Village residents feared being ignored or mistreated if they came to the hospital for treatment, Dr, Brickner evolved a simple, but groundbreaking treatment philosophy. He established the practice of taking health care to the patient, rather than expecting the patient to seek out the doctor.
He also realized the importance of a team approach in dealing with the complexities of issues faced by the poor and elderly. Under Dr. Brickner's direction, teams comprised of a doctor, nurse, social worker and a driver who was trained in electrocardiography, returned to see the same patients again and again, visiting the weakest daily and addressing not only medical issues but also social service needs.
Dr. Brickner's achievements were recognized as both cutting edge and cost-effective. He was presented with a Lifetime Achievement Award from the Health Care for Homeless Clinicians' Network in 1996, and received other honors as well throughout his career.
As Chair of DFTA's Senior Advisory Committee, Dr. Brickner was intensely interested in everything the Department did to further its mission of serving older New Yorkers. Messages from his colleagues on the Committee poured in when Doris Williams, Vice-Chair of the Committee, requested entries for a "Memory Book." Comments portray a kind, low-keyed man with a dry sense of humor and deep compassion, allied with a strong sense of professionalism and a pointed intellect.
"What shone through at every meeting he led was the way he respected each of us and respected the commissioners he served," says Ms. Williams of his stewardship of the Council. "He was a man with a big heart that embraced his family, his colleagues, and vulnerable people everywhere." Deputy Commissioner Caryn Resnick, who worked with Dr. Brickner for many years, added. "He was inspired by a sense of mission that led directly from his early work with the homeless and poor to his passion for improving home care for the elderly. We were fortunate to have him chair DFTA's Advisory Council for so many years."