September 2013
In This Issue:
New Taxi Smart Card Program for Disabled Persons
How the Affordable Care Act Helps Seniors
Wii Bowling Team Seeks Competition
High Tech Exploration Center Invites Seniors
Council Senior Center Members Tell Their Stories
The Support They Need: Early Alzheimerís Program



City Launches Taxi Smart Card Program for Disabled Astoria and Canarsie Residents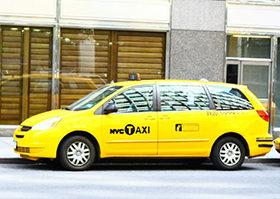 The New York City Department for the Aging (DFTA) is accepting applications for the City's new Taxi Smart Card Program from disabled residents of Community District #18 in Brooklyn and Queens Community District #1. The program is being piloted in these districts only.
Intended to allow more transportation options for people with disabilities, and to supplement Access-A-Ride, the program is funded through the New Freedom Act of 2010 which promotes full participation of people with disabilities in all areas of society. Enrollees must present proof of address and any one of the following as proof of disability:


Access-a-Ride card
Letter from a government agency stating that person has a disability
SSD/SSI card stating that person has a disability.
The Taxi Smart Card can be used with taxi cabs or livery cars. It is loaded with $100. Participants contribute $12.50 out-of-pocket toward the Card and the City contributes $87.50 for a total of $100. Participants may renew their cards four more times at the same personal cost of $12.50 each time. The maximum benefit to the participant is $437.50 annually. The City expects to issue 1100 Cards by March 2014.
DFTA and the Mayor's Office for People with Disabilities (MOPD) are partners in the new Taxi Smart Card Program. J.P. Morgan Chase works with DFTA to issue the bank cards.
Residents of the pilot community districts (Brooklyn CD #18 and Queens CD #1) can apply for the program by calling DFTA at 212-442-3026 or MOPD at 212-788-2830.
How the Affordable Care Act Helps Seniors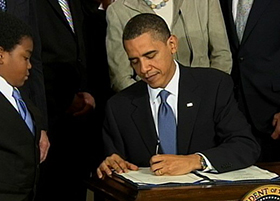 Dozens of rumors plagued passage of the Affordable Care Act in 2010. Benefits would be reduced. Care for older persons would be rationed. People wouldn't be able to choose their own doctors. Now, three years later, facts are disproving the rumors, and The Affordable Care Act (ACA) is already improving care for older persons.
Protecting Medicare Benefits
Under the ACA, seniors can continue to see their doctors or choose who they want to see. Furthermore, seniors' Medicare Benefits stay exactly the same and cannot be reduced. As for rationing, the Independent Payment Advisory Board, which is authorized to recommend cost savings, is expressly prohibited from rationing care and increasing premiums.
This prohibition holds for those who are on Medicare Advantage as well as those on original Medicare. Although the new law cuts the extra money for administrative and other non-health care costs that the government pays for people on Medicare Advantage - more than $1,000 per person, on average - enrollees in Advantage plans will continue to receive the same benefits they currently do. In fact, enrollment in these plans is increasing and premiums are falling.
Expanding No-Cost Preventive Care for Seniors
A number of preventive services, including flu shots, mammograms, bone scans and screenings for depression, cholesterol, cervical and colorectal cancer and diabetes used to involve Part B deductibles and co-pays. These and many more services are now free for Medicare recipients. In addition, Medicare recipients are eligible for free annual wellness visits.
Closing the Doughnut Hole
Prior to passage of the Act, seniors and disabled persons with Medicare's prescription drug coverage lost their coverage for the year when they exceeded a certain dollar amount. They were on their own - in the "doughnut hole" as it is called - until they reached another dollar amount. Now the doughnut hole is being phased out through discounts to help people through the "hole." These discounts increase each year until, by 2022, the "hole" will be closed completely.
According to a February 7, 2013 report from CMS, the Act has already saved persons in the doughnut hole (including about 6.1 million seniors) $5.7 billion on prescription drugs. The report also estimates that by 2022, average savings should add up to about $5,000 a year for seniors with high drug costs.
Extending the Life of the Medicare Trust Fund
Before the Affordable Care Act was signed, Medicare's financial health was bleak. The Act's tougher measures to address fraud and abuse and to reduce unnecessary hospital admissions have already yielded significant savings.
Furthermore, the life of the Medicare Trust Fund is now projected to extend to at least 2024, an increase of ten years over previous estimates.
Improving health insurance for 50-64 year olds
The Act will phase out age rating - insurance companies' practice of charging higher premiums to older persons - along with lifetime price caps. Its' protections against insurance cancelations when people become sick are also especially helpful to people in their late 50s and early 60s.
Improving the Quality of long-Term Care
The Act advances several initiatives to support older and disabled people in their homes rather than nursing homes. These include the Community First Choice Option, which assists states with the cost of in-home programs for people who would otherwise be institutionalized, and the Balancing Incentives Program, which increases federal matching Medicaid funds to help states transform their long term care system.
Additionally, starting in 2014, the Act will help husbands and wives hold onto more of their assets if a spouse must spend down to qualify for Medicaid.
Improving Care Coordination and Quality
The Act promotes innovative heath care models that reduce costs and improve chronic disease care. Community Care Transition programs promote more effective transition care following hospital discharge.
Websites that provided information for this article:
Seniors and the Affordable Care Act Ė Fact Sheets
5 Ways That Seniors Benefit from the Affordable Care Act
How the Affordable Care Act Helps Seniors
Benefits for Seniors in the Affordable Care Act
Changes Could Improve Medicare and Seniors; Health
What the Health Care Ruling Means for Medicare

Anyone Interested? Albany Centerís Wii Bowling Team Seeks Tournament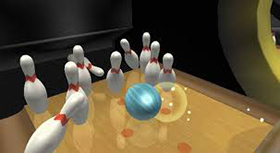 It may be a virtual game played on a large flat screen TV, but when Willi Pinner of Albany Senior Center lunges forward and releases her invisible bowling ball with the hand-held controller, the emotions are 100 percent real. "Hallelujah!" she cries, as the pins scatter.
On most mornings, Willi can be found playing with several other Albany Center aficionados of Wii Bowling - Milton Malone, Barbara Francis, Marie Harris-Alexander and Dennis Illery. After a morning session, they break for lunch and then return to bowling for the rest of the afternoon. And they play every day of the week.
Wii bowling was developed by Nintendo. The game mimics the moves a bowler makes in an actual bowling alley, only players don't have to reserve a lane, don bowling shoes or pick up a heavy ball. And they can stand, sit or even lean on a walker. "It's real bowling," says Marie emphatically. "Don't make the mistake of thinking it's not!"
Barbara adds, "And it's great exercise. It's exciting and the camaraderie is great." Willi too sings its praises. "Everyone develops their own style," she says. "You kick shake, wiggle - whatever it takes to get that arm and your whole body to line up a strike."
The Albany team wants to play other centers. "We want to put out a challenge," Milton announces. "We're good, we're afraid of no one and we'll go anywhere in the five boroughs! Just tell them to contact us. Our trophy shelf is waiting!" Albany has played other Fort Greene centers and has been to the Bronx. The team dreams of a tournament.
Other centers in DFTA network that enjoy Wii bowling include: SNAP and Ben Rosenthal Innovative Senior Centers and Robert Couche, Alpha Phi and SelfHelp Latimer Gardens Neighborhood Centers in Queens.
Come on, centers! Albany is challenging you! Call director Debra Holland at 718-773-2600 to set up a match.
High Tech Exploration Center Invites Senior Users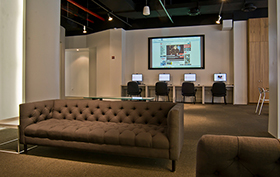 The Department for the Aging has partnered with the nonprofit Older Adults Technology Services (OATS) to open the nation's very first technology-themed community center for older adults. The Senior Planet Exploration Center, located at 127 West 25th Street in Manhattan, offers free high-quality technology training courses and related programming to older New Yorkers. It is open Monday-Friday, from 9:00 a.m. to 4:00 p.m.
Launched last spring, the Center is "about changing the way we age", said Tom Kamber, Executive Director of OATS. "It's designed to provide seniors with free access to technology, get them online, develop their basic digital literacy skills, and then empower and support them to use the power of technology to improve their lives in specific and self-directed ways."
OATS built the center with DFTA's support, federal and municipal funding, and the nonprofit's own matching dollars as part of the US Department of Commerce's Broadband Technology Opportunities Program (BTOP), a nationwide initiative to bring broadband to underserved communities.
The Center abounds with technology: 23 high-speed workstations, dozens of iPads connected to WiFi throughout the space, digital cameras, several gaming consoles, a 110-inch television and more. Five-and ten-week courses help seniors learn the basics, then explore digital photography, connect to social networks, improve workforce and online job searching skills, and have fun alone and in community.
"These are the devices they see their grandkids using," Kamber pointed out, "We make them all available and teach our members how to use them, whether it's a tablet, Skype, smartphone or software programs, like Microsoft Word and Excel."
In addition to its catalog of free structured courses, the Center is continuously offering senior-relevant tech-related lectures, workshops, and shorter tutorial sessions like "Facebook Fridays" or "Tech Talks."
"It's not just about computers and email anymore. It's about using technology for impact - impact on your health and wellness, your finances, your social life, your entire lifestyle," Kamber explained. "Come visit us!"
The Senior Planet Exploration Center is located in Manhattan at 127 West 25th Street between 6th and 7th Avenues, and can be reached by phone at (646) 590-0615 or via email at info@seniorplanet.org. Information about the center, its upcoming activities, and a wealth of senior-friendly articles and resources including a weekly NYC events calendar, is available at the Senior Planet website.
Council Senior Center Members Tell Their Life Stories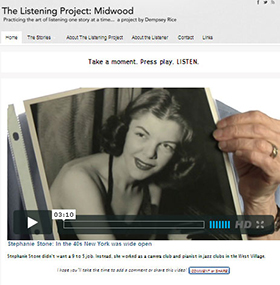 The Listening Project: Midwood is a new website featuring 39 members of Council Senior Center in Midwood, Brooklyn, telling their life stories as they touch on universal themes of life, death, love, children, parents, growing up and home. You can watch and hear Stephanie S. talking about what it was like to sing in Manhattan night clubs in the 1940s, Irving F. sharing his memories of liberating the Mauthausen Concentration Camp at the end of World War II, and Milly B exploring her memories of growing up poor in Brooklyn, along with lots of others.
Creation of the website is the culmination of a two-year "residency" at the center by documentary artist Dempsey Rice. Starting in 2010, Rice was a participant in SPARC (Seniors Partnering with Artists Citywide), a joint initiative of the Department for the Aging and the Department of Cultural Affairs that places working artists "in residency" at senior centers to lead creative projects.
Rice began her residency by inviting Council Center members to "talk" their stories on video, while she listened attentively from behind her camera, ready with questions to guide their reminiscences if needed.
In the spring of 2011, Rice held a screening of the videotaped interviews at the Center, and presented each of the interviewees with a DVD of their own session. "I had no idea how much the process would mean to participants and center members and it started me thinking about sharing their stories with a wider audience," she reports. "By the time I started my second residency I had decided to create a web site where these life stories can exist and be seen by anyone."
Because most people won't take the time to watch a 60-minute life story interview unless it is with someone they know, Rice decided to edit each interview into several 2-5 minute 'slice of life' segments and to tag each segment to a subject or identifying theme, ranging from "a" to "z." "I watched material many times over to decide what segments convey the story best," she said.
The site she designed maximizes interaction between listener and interviewee. Every few weeks a different story is featured on the home page but all the stories are easily accessible by theme tag or name. To learn more, visit the Listening Project's homepage.
The Support They Need: The Stein Centerís Early Alzheimerís Program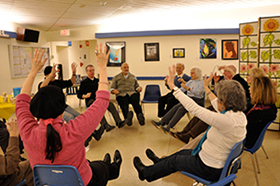 In a sunlit room of the Stein Center on the 2nd floor of 204 East 23rd Street in Manhattan, a group of men and women with early Alzheimer's meets three times a week for afternoons of structured activities and friendship. As participants in the SPA program (Service Program for Adults), they know their diagnosis and talk openly about the changes they are experiencing. They also talk openly about what the group means to them. It is a place where "we listen to each other" and "meet as friends," they say. Adds the group leader, Sandy Daniels, "it's a place where everyone is accountable for what they say, but no topic is off the table."
Sessions begin slowly, as people wander in and seat themselves around a table. They chat with each other and with their group leader, Sandy. To get things started, Sandy reviews the afternoon's activities.
One recent session began with an exercise module in the lower half of the room, set out with chairs draped with therabands. "Let's all move into a circle," Sandy said, as she transitioned the group to the exercise segment of the afternoon. "I've been going around in circles all my life," said Jason, the group comedian, as Barbara, the exercise specialist, turned on her portable stereo.
Barbara proceeded to take participants through a total body workout using the therabands. Two sat, but most stood to move more easily, and everyone stayed focused. When Barbara ended the session by playing a favorite "oldie," all sang and swayed to the music.
Back at their table, Sandy formally introduced a new member, a retired circuit court of appeals judge. Present at the group that day were a retired neurologist, another retired judge, a man who owned a clothing company and a former social worker. All listened courteously as the newcomer told them about himself.
The next activity was creative writing. Stacey, their writing instructor, passed around the notebooks that each participant keeps at the center. The day's theme was "New York in the spring." Sandy distributed guide questions to help them get started. What do you see, smell, notice, feel as the season changes? Do you have a memory of New York in the spring? Does it call to mind a favorite place?"
All worked very hard, but Stacy and Sandy had to help two members who could no longer write. Their murmuring disturbed one of the group members, who complained that he couldn't concentrate because they were distracting him. Emotions began to run high as others joined in. Finally, someone suggested that the next time they write in their notebooks, "help" takes place in another part of the room. Feathers unruffled, all settled down and Sandy left the room to bring in a cart with refreshments.
As they drank their coffee and nibbled on cookies, participants took turns reading out loud what they had written. Roy, the neurologist, had written about how he met his future wife in the spring. "We were both kids," he commented. Sandy, who knew his history, added gently, "But you made a marriage that lasted 60 years." Touching his wedding ring, he agreed.
"This group is so great because it helps us take stuff from the back of our heads and remember," a member commented. "We celebrate ourselves all the time," another chuckled. To the observer, there was little doubt that in this sunny room, for three hours, three times a week, dementia is kept at bay.