November 2011
November 2011
In This Issue:
Eight Community Organizations Will Develop Innovative Senior Center Model
New Coalition of City and Community Partners Targets Falls as Preventable Injury
City's New Prescription Drug Card Already Saving Millions
Retailer Learn Why it's Good Practice to be Age Friendly
Older Volunteers Work to Transform Food Deserts
Oldest New Yorker Honored at Vandalia Senior Center
DFTA Senior Medicare Patrol Volunteer Honored at National Event

New Feature! Community Partner Bulletin Board



DFTA Selects First Round of Innovative Senior Centers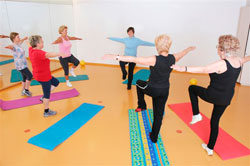 Eight community organizations across the City will receive City and philanthropic funding to operate Innovative Senior Centers starting in January. These new programs will go beyond the scope of existing centers in their services and linkages to health promotion opportunities, recreational facilities, schools and universities, arts/cultural affairs and civic and volunteer activities.
The eight programs will be overseen by the Department for the Aging. They are: BronxWorks, Inc. (Bronx); Lenox Hill Neighborhood House, Inc. (Manhattan); YM YWHA of Washington Heights and Inwood (Manhattan); Selfhelp Community Services (Queens); Services Now for Adult Persons (Queens), Jewish Community Center of Staten Island (Staten Island), Services and Advocacy for Gay, Lesbian, Bisexual and Transgender Elders (SAGE) (citywide); and Visions/Service for the Blind and Visually Impaired (citywide).
The centers were chosen through a two-step competitive process that involved pre-qualification as the first step, followed by submission of a narrative proposal. Proposers described their plans to provide choice/variety in meals; ensure seniors access to the full complement of benefits available to them; promote healthy lifestyles and address major chronic health conditions in their community; engage and inspire seniors socially, intellectually, artistically, spiritually; utilize technology in programming; develop and maximize linkages to community resources for seniors; and ensure that seniors who need transportation to the ISC have it available.
The development of the Innovative Center Model grew out of meetings with a wide variety of stakeholders - including the Council on Senior Centers and Services (CSCS) seniors themselves - that were convened by DFTA in collaboration with the New York Academy of Medicine and with the sponsorship of the New York Community Trust.
Take Care, Older New Yorkers: Prevent Falls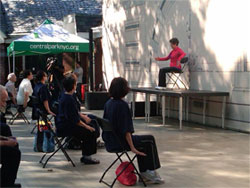 Unintentional injury, especially injury from falls, is a leading cause of death and hospitalization among older adults in New York City. On September 23rd, in recognition of Falls Prevention Awareness Day, a new coalition of City agencies and community organizations announced several initiatives aimed at reducing the incidence of falls among older New Yorkers.
The coalition consists of government agencies, academic institutions and not-for-profits spanning the aging, health, vision and disability communities. Among the new initiatives is a website devoted to falls prevention awareness and offering targeted information to seniors, caregivers and professionals. In addition, coalition members will be promoting falls prevention awareness activities within their respective membership communities.
The announcement took place at the Educational Alliance's Sirovich Center in Manhattan, and also at an event in Central Park. Commissioner Lilliam Barrios-Paoli represented DFTA. To highlight the importance of fitness in mitigating falls risk, "Sit and Be Fit" television host Mary Ann Wilson, RN, led a group of local seniors in a group exercise (see photo). NYC life, part of the official network of the City of New York filmed the workout, which will air on its "Fitness Fridays" exercise series. The series can be viewed weekdays at 3 p.m. on NYC life (Time Warner Cable, Channel 25, Cablevision, Channel 22; Comcast, Channel 25; Verizon FIOS, Channel 25 and RCN, Channel 25).
In addition to physical exercise to improve balance, strength and gait training, other ways to mitigate risk factors for falls will be emphasized on the new website and in outreach efforts. These include fixing fall hazards in the home, reviewing and eliminating unnecessary medications and getting annual eye exams.
The Falls Prevention Coalition is an initiative of Age Friendly NYC, a set of 59 initiatives aimed at making New York City the most livable city in the nation for older persons. Mayor Michael R. Bloomberg in a proclamation declared September 23rd Falls Prevention Awareness Day in New York City to coincide with National Falls Prevention Awareness Day, observed every year on the first day of fall.
Big Apple Rx Already Saving New Yorkers Big Money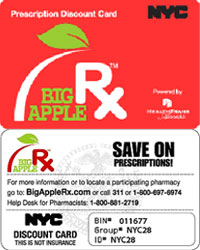 Four months after New York City announced Big Apple Rx, the City's official prescription drug discount card, the card has already saved New Yorkers more than $1 Million in prescription drug costs. The Big Apple Rx card is free and available to everyone living in, working in or visiting the City, regardless of age, income, citizenship or health insurance status. No personal information or enrollment is required to use the card.
The card is accepted at more than 2,000 pharmacies, including chain and independent stores throughout the five boroughs.
The card is not insurance. When the card is presented at a participating pharmacy, a discount is taken off the regular price of the prescription. Consumers can save up to 15% on brand name drugs and 53% on generics. Discounts also apply to over-the-counter medications such as smoking cessation aids and diabetic supplies with a doctor's prescription.
The card cannot be used in combination with any other discount card or with insurance. However, it can be used to get medications that the user's insurance does not pay for, or to purchase items that would be less expensive using the card than using the consumer's prescription drug insurance plan. Older persons with Medicare Part D can use the card to save on prescriptions in the "donut hole" phase, when they have to pay the full cost of their medications until they reach an out-of-pocket maximum.
Receipts from using the Card might also count toward meeting an insurance plan's deductible. Consumers should first check with their insurer to find out whether their plan would accept such receipts.
Consumers can get the card by visiting the Big Apple website, where they can also find participating pharmacies and compare prescription drug prices throughout the City. They can also call the Customer Service Helpline at 311 to learn more about the program and how to obtain a card.
Age-Friendly Business Practices a Win-Win for Seniors and Retailers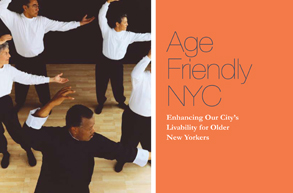 Being age friendly makes good business sense. Over the course of three months this past summer, 12 volunteers recruited by the New York Academy of Medicine went door- to- door in 43 neighborhoods and commercial corridors throughout the city to educate small businesses about why catering to older consumers is good business practice.
The volunteer canvassers disseminated age-friendly materials to more than 3,000 businesses. They also enrolled more than 1,000 businesses in the Age-Friendly Local Retail Program, an initiative of the Age Friendly Business Workgroup of the New York City Age Friendly Commission.
The message delivered by the canvassers was simple: By making some low-cost and easily manageable changes to become more "age-friendly," stores would not only positively impact the quality of life of older persons in their communities, they would be doing a lot both to attract new older customers and to keep their current ones. Retailers who agreed to participate in the program were given stickers to place in their windows and packets of specific information about best practices.
Canvassers also asked store owners about their current practices to accommodate older adults. Best practices thus identified included: availability of water on request, products and/or services appropriate for seniors; discounts; bench or chair where seniors could sit down; restroom available for customers; delivery service for older persons. Additional common practices targeted small or difficult-to-read font on signs and menus, loud music, product placement on high shelves and heavy doors at entrances.
Restaurants, clothing stores, pharmacies, hair salons and food stores represented the types of business most likely to enroll in the Age-Friendly Local Retail Program. Canvassers also found that businesses that actively engaged with their communities and relied on a consistent and loyal customer base were more likely to participate than those that were located in busy neighborhoods with transient clientele.
The Age Friendly Business Workgroup is an arm of the New York City Age Friendly Commission, which was created in 2010 to address the needs of older adults as identified through a process of community consultations carried out by the New York Academy of Medicine. The Commission is charged with moving forward New York City's Age Friendly Initiative, a joint endeavor of the Mayor, the City Council and the New York Academy of Medicine.
Older Volunteers Work to "Green" Food Deserts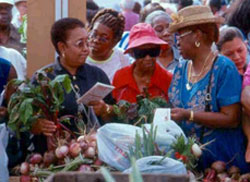 Low-income communities in New York City where fresh, affordable food close to home is unavailable are sometimes called "food deserts." They are places where diet-related chronic diseases like obesity, diabetes 2, hypertension and heart disease are prevalent. Now, older adults are playing pivotal roles in bringing fresh food into food deserts. Thanks to a partnership of the New York Community Trust, United Neighborhood Houses and six community-based organizations, older residents in neighborhoods across New York are promoting better health in their communities by working to improve fresh food access.
In East New York, Brooklyn, older adults are teaching people how to increase the yield of their gardens and sell more of what they grow at local farmers markets (see photo of United Community Centers/East NY Farms). They are also conducting outreach, nutrition education presentations and cooking demonstrations. In Brooklyn's Fort Greene/Clinton area, they are helping residents grow fresh food on underutilized publish housing grounds, working with youth to run a fresh food market, educating the community about fresh food and how to prepare meals using fresh produce, and leading a Community Food Council.
In other boroughs there are similar stories. Older volunteers have developed and run a fresh food buyers' club that delivers food boxes filled with fresh, healthy food to various distribution sites throughout Upper Manhattan. In the Morris Heights section of the Bronx, older adults are in the process of planning a community-run fresh food market and an intergenerational community garden that grows and sells herbs, vegetables and flowers. They are also planning cooking demos and nutrition workshops for community residents. In Queens, seniors have established a community farmers market on NYCHA grounds at Pomonok Houses. They are working with local community gardens as their sources for local food as well as conducting presentations and workshops.
The following organizations are spearheading these community projects by recruiting the older volunteers and training them in leadership, public speaking, community outreach and urban gardening: Brooklyn's United Community Centers and Myrtle Avenue Revitalization Project; Manhattan's Isabella Geriatric Center; BronxWorks; and Queens Community House. Just Food , the sixth community partner on the initiative, addresses the project's sustainability and expansion by training staff of community-based organizations and older adults across the City-and especially in Staten Island-to mobilize, create and promote projects and policies that improve access to fresh, affordable healthy food.
Funding for this three-year Community Experience Partnership to engage older adults for civic good is being provided by The Atlantic Philanthropies and The New York Community Trust, with supplemental funding from the Florence V. Burden Foundation. United Neighborhood Houses developed and is overseeing the initiative.
Oldest New Yorker Honored at Vandalia Senior Center
Born in 1899, Susanna Mushatt Jones, a member of Brooklyn's Vandalia Senior Center, may be the oldest resident of New York State, according to the Gerontology Research Group. Known to everyone as "Miss Susie," the 112-year old was honored with a birthday part at the senior center on July 19th. Wearing a red hat, floral dress and white socks with black shoes, she thanked everyone for attending and nodded her head in time to both a live version and a Stevie Wonder recording of "Happy Birthday." Obviously moved as tribute letters from the mayor, the governor and DFTA's Commissioner were read aloud, she clutched her niece's hand.
Miss Susie was born in Alabama, the third of 11 children, After graduating from high school (at her graduation in 1922 she gave a presentation on "Negro Music in France" according to a program discovered by Ms. Jones' niece), she taught for two months before moving to New Jersey. Her work as a child caretaker for wealthy families took her back and forth between the coasts. At one point she worked in Hollywood for a movie mogul. "I was close enough to Ronald Reagan to reach out and touch him," she said. "Clark Gable, Cary Grant, I saw them all. George Raft was my favorite."
Although she has no children, her large family of more than 100 nieces and nephews returns the love she has lavished them. She took in many of her relatives when they migrated to New York and used her savings to send two nieces to college.
DFTA Senior Medicare Patrol Volunteer Honored at National Event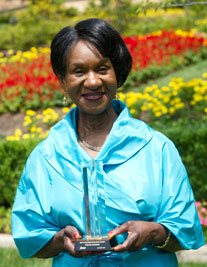 The possession of someone's Medicare ID number and related social security number is "gold" to unscrupulous persons and organizations seeking to cheat Medicare. It is no wonder, then, that a variety of scams directly target Medicare beneficiaries. Over the past 14 years, thousands of retired professionals have been helping Medicare beneficiaries in every State fight back against these scams. These older volunteers are trained members of the Administration on Aging's Senior Medicare Patrol programs (SMPs).
SMP volunteer have helped save the government millions in fraudulent claims by teaching their peers to protect their identity information, scrutinize their health care bills and report suspicious billings and health care practices. New York City's SMP volunteers are volunteer counselors in the Department for the Aging's Health Insurance Information Assistance and Counseling Program (HIICAP) who have received special training on how to educate Medicare recipients about scams and assist them when needed.
Last August, a HIICAP SMP volunteer was one of 10 volunteers chosen nationally to receive an Excellence Award at a Volunteer Recognition Ceremony in Washington, D.C. Felice Hannah of Queens (see photo), a HIICAP volunteer and retired New York City Board of Education Administrator, was honored for her work assisting clients in selecting Health Insurance and Part D Plans, following up on Quality of Care complaints and billing problems, enrolling clients in Low Income Subsidy Assistance Programs and making referrals of suspected fraud to the appropriate agency.
The Administration on Aging became a key player in the fight against fraud in l997, when a congressional act directed the AoA to establish demonstration projects that utilize the skills and expertise of retired professionals in identifying and reporting Medicare error, fraud and abuse. The SMP website is a good source of information about consumer protections and scams.
NEW FEATURE! Community Partner Bulletin-Board
Good Companions is now serving dinner from Monday-Friday, 4-6 p.m. Good Companions is the only program serving dinner in the lower east side. After or before dinner, members are able to use the computer, take a ballroom dance class, Tai Chi Chuan class, or participate in lots of other activities.
Hudson Guild in Manhattan is serving breakfast weekday morning, 8:45-9:45 a.m. at its Fulton Center, 119 Ninth Avenue in Chelsea. Please call 212-924-6710 for the menu or more information.
The Institute for Puerto Rican/Hispanic Elderly held its 34th-Annual Empowerment Conference for Hispanic/Minority Seniors November 16th at Columbia University, from 8:00 a.m.-3:00 p.m.
Ridgewood Bushwick Senior Center is proud to announce that members of its art class showed their paintings at Williamsburg Brooklyn Café from June-September.
Council Senior Center's water color class mounted an exhibit at the Gravesend Library in Brooklyn September 21st-October 21st.
Peter Cardella Senior Center, Queens, announces that it has been awarded the home-delivered meals contract from DFTA to serve all of Queens Community Districts 5 and 2. The Center has also added a 3,200-foot extension, which includes an elevator.
Arrochar Friendship Club (S.I), Bronxworks Morris Senior Center (Bronx), City Hall Senior Center (Manhattan), Benjamin Rosenthal Senior Center (Queens) and Wayside Tompkins Park Senior Center (Brooklyn) were honored at the 50th Anniversary Recognition Even of the New York Citizens' Committee on Aging.