October 2010
October 2010
In This Issue:
Public Hearings Set for October and November
TimeBanksNYC: Neighbors Connect to Exchange Services
"A True Latin Experience" for all New Yorkers
DFTA Community Partners Assess Their Neighborhoods
Asian Community Organizations Assist with Mental Health Training of Seniors
Program Focus: Art Workshops at Riverdale Senior Services

DFTA Sets Public Hearings Dates in October and November
The Department for the Aging will hold its annual public hearings in each of the five boroughs in October. The Hearings are an opportunity for the public to comment on the Department's priorities and plans for service provision during 2011-2012. New Yorkers - especially seniors - are urged to present testimony.
The basis for the Hearings is the Department's Annual Plan for administering the Older Americans Act and two state programs, the New York State Community Services for the Elderly and the Expanded In-Home Services for the Elderly.
The hearing sites are accessible to people with disabilities. Following is information about the hearing dates, times and locations.
Brooklyn
Wednesday, October 20, 2010
10:00 A.M. - 12:00 Noon
Brooklyn Borough Hall
Courtroom
209 Joralemon Street
Brooklyn, NY 11201

Manhattan
Thursday, October 21, 2010
10:00 A.M. - 12:00 Noon
220 Church Street
Room 328
New York, NY 10013

Queens
Friday, October 22, 2010
10:00 A.M. - 12:00 Noon
Queens Borough Hall
Room 213
120-55 Queens Boulevard
Kew Gardens, NY 11424

Staten Island
Wednesday, November 3, 2010
10:00 A.M. - 12:00 Noon
All Saints Episcopal Church
Community Center
2329 Victory Boulevard
Staten Island, NY 10314

Bronx
Thursday, November 4, 2010
10:00 A.M. - 12:00 Noon
Rotunda
Bronx Borough President's Office
851 Grand Concourse
Bronx, NY 10451
TimeBanksNYC: Neighbors Connect to Exchange Services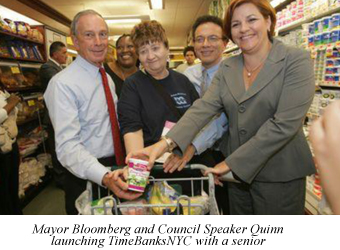 TimeBanksNYC is an innovative approach to an age-old concept: neighbors helping neighbors. Launched on August 26th by Mayor Bloomberg and Council Speaker Christine Quinn, TimeBanksNYC is an online clearinghouse where New Yorkers can find opportunities to give or receive services. For every hour that timebanking members provide a service or shares a skill with another member in the timebank, they earn a time credit that can be redeemed for services in return.
Because TimeBanksNYC has great relevance for the City's seniors, DFTA has been administering the program, in collaboration with NYC Service, the Aging in New York Fund and with support from the Visiting Nurse Service. In a soft launch of the program earlier this year, a professional crafts person taught a crochet class for the Manhattan Valley Golden Age Senior Center, and a senior who enjoys researching herbs and nutrition shared nutritional information with another senior. To officially launch the program, Mayor Bloomberg and Council Speaker Christine Quinn "timebanked" at a Bronx supermarket by serving as shopping partners for senior citizens in need of assistance.
There are 12 major categories of timebanking exchange, including Arts, Crafts, Music & Recreation; Business Services; Community Service/Activities; Companionship; Computer/Internet Technology; Education Workshops/Services; Errands; Health Services/Support; Help for Home/Office; Repair & Maintenance; Transportation; and Wellness.
Anyone can register and fill out a membership profile on www.nyc.gov/timebanksnyc or by calling 311. Individuals must submit three references and participate in an orientation session, either in person or online. After an exchange has occurred between registered members, the provider of the service records the time credit in the TimeBanksNYC database. A time credit email is sent to the receiver of the service exchange for confirmation.
"A True Latin Experience" for all New Yorkers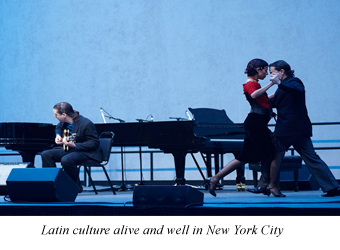 A week of events showcasing New York City's Latin culture and history kicked off on October 4th as part of Hispanic Heritage Month. Latin Media and Entertainment Week (LMEW) features the diverse and dynamic talent of the City's Latin communities with events ranging from film, theater, dance, concerts, photography, art, museum exhibits, business functions and more.
Many of the events are free, including art shows and readings at Repertorio Espaņol theater. Repertorio Espaņol also has discounted tickets for seniors at morning and noon performances of several productions.
LMEW was conceived by the Latin Media and Entertainment Commission. Mayor Bloomberg created the 40-member Commission to make New York City the Latin media capital of the world. Members are committed to making "LMEW a celebration, a destination, and a place where new ventures forge." The week's festivities were selected to celebrate New York as a major Latin media and entertainment center, drawing participants of all ages and from all walks of life to enjoy a "true Latin experience."
DFTA Community Partners Assess Their Neighborhoods
How senior friendly are New York's neighborhoods? Three New York City not-for-profits that are also DFTA community partners in providing service to the elderly are determined to find out. Each received a grant from the New York State Office for the Aging (NYSOFA) last spring to begin to plan how their respective communities can better support successful aging in place. Grand Street Settlement and Isabella Geriatric Center in Manhattan, and Heights and Hill Community Council in Brooklyn were among 15 winning agencies statewide.
Grand Street Settlement will be conducting surveys, focus groups and town hall meetings targeted to older residents of the Lower East Side. Older persons will be encouraged to articulate their needs and create a vision of how they wish to age in place through a process that will give them a voice as well as a new role in their community.
The planning process of Isabella Geriatric will build on the work of the Upper Manhattan Partnership for Senior Independence, a partnership of eight community agencies providing case management services to more than 1,000 older persons living in Washington Heights, Inwood and Central and North Harlem. Like its counterparts on the Lower East Side and in Brooklyn, Isabella's Initiative will explore how to enhance supports for older adults within the targeted communities through assessments, surveys, focus groups and other strategies.
Heights and Hill in Brooklyn will focus on the short- and long-term needs of older adults in the areas of Park Slope, Boerum Heights, Cobble Hill and Brooklyn Heights. In particular, Heights and Hill aims to learn about the needs of older adults who are not connected to any senior organization and particularly those who do not live with family. Another target will be senior residents who are adversely affected by the increasing costs of rent or home ownership and maintenance in the communities being surveyed.
Asian Community to Train Older Residents on Mental Sharpness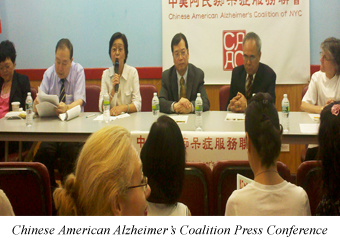 Several organizations serving Asian and South Asian communities will be helping the Department bring "Keeping Your Mind Sharp" to seniors in their own languages. "Keeping your Mind Sharp" was developed by the Fisher Center for Alzheimer's Research of Rockefeller University and the Department under a grant from the federal Administration on Aging which has also funded its translation into Chinese, Korean, Japanese, Hindi and Urdu.

The sessions emphasize the importance for seniors to maintain good health through physical exercise, good nutrition and rest to ensure active and alert minds. DFTA expects that 28 training sessions will be provided over the fall.

The Chinese-American Alzheimer's Coalition held a press conference on September 1st to announce the Coalition's participation in Chinese language "Keeping Your Mind Sharp" trainings in the Chinese community. Other organizations enlisted to assist with the trainings in their respective languages are the Korean American Alzheimer's Coalition, Japanese Social Service, Inc., and the South Asian Council for Social Services.

Program Focus: Art Workshops at Riverdale Senior Services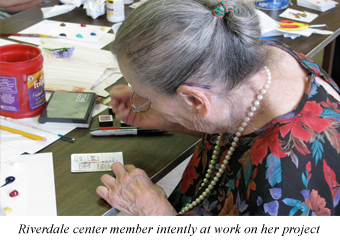 Senior centers are increasingly turning to professional artists as instructors for their art classes. For two months last spring, Riverdale Senior Services in the Bronx enjoyed the services of Tricia Riebesehl, a local artist who offered workshops at the center as Riverdale's "artist in residence."
Both center members and the artist loved the experience. Seniors got to "reconnect" with childhood play through the workshops, which Tricia based on games and crafts played mostly in childhood. For example, one workshop focused on creating figures out of playing cards. Students also painted and collaged on old game boards like Candy Land and Chutes and Ladders and worked with clay to make miniature games, including a clay bowling alley, clay checkers and a tick-tock-toe game.
For her part, Tricia was able to work out her ideas about play, nostalgia and regression for an installation she was planning of figure representations and constructed environments. An instructor in fine arts and ceramics at DeWitt Clinton High School when not working on her own art, Tricia also thoroughly enjoyed "working with a whole new generation of people," she told a reporter from the Riverdale Press. "Their life experience adds to what they do," she said. "They are full of memories and they love to talk about their experiences."