March 2011
March 2011
In This Issue:
"Beautiful Hills of Brooklyn": Moving Movie and Professional Resource
DFTA Launches New Senior Center Procurement Process
Grandparent Caregiving an International Child Welfare Issue
How Do I Get to Carnegie Hall? We'll Come to You Says New Program
Affordable Care Act: Impact on Medicare Beneficiaries
Program Focus: Decking the Halls at Elmhurst Jackson Heights
Christmas Blizzard Kudos
Film About Aging Scores on Two Fronts
<![if !vml]>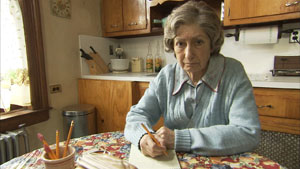 <![endif]>It is not often that a film resonates with audiences as diverse as New York City Department for the Aging staff and cinema buffs in Moscow and Hollywood. But that is the case with "The Beautiful Hills of Brooklyn," a short dramatic film about aging. While continuing to win national and international awards for its cinematography, acting and direction, its depiction of an older person's loneliness and fortitude is also raising provocative questions in fields as diverse as aging, women's studies and urban studies.
"The Beautiful Hills of Brooklyn" is based on the diary of Jessie Singer Sylvester, an elderly woman living alone on a pension in the Prospect Lefferts Gardens section of Brooklyn more than 30 years ago. In her journal, Jessie recorded the events of her simple, quiet life between 1976 and 1978—walking to the supermarket, listening to the radio, looking forward to the spring. Her great niece, Ellen Cassedy, found the journal tucked away in a drawer after her aunt's death. Amazed by its spare beauty and dignity, Ms. Cassedy turned it first into a one-woman play and then worked with others on the film version.
The film stars Joanna Merlon, who also co-wrote and produced it. Told entirely in the diary's words, it moves between Jessie's present life and her reveries about the past. One of the few things Jessie looks forward to each day is attending her neighborhood senior center, where she finds community, kindness and respite from worrying about changes in her life and in her beloved Brooklyn neighborhood. She is particularly inspired by the poetry class at the center. When Sunny, the teacher, has to miss a day, Jessie really feels the loss. "No one can take Sunny's place," she writes in her diary.
The film continues to be entered in film competitions and other screenings of noteworthy films. At the same time, its use as a teaching tool is expanding. Department for the Aging Commissioner Lilliam Barrios-Paoli, who arranged for the film to be shown to Department staff, praises it as a vehicle for furthering deeper understanding of the elderly. "For those working with the elderly, it really drives home the point that life is not made up of great big events. It's an accumulation of little things that happen every day and that make or break you," says Commissioner Barrios-Paoli.
New York City senior centers can purchase the film for $75 and discussion questions can be downloaded from the Beautiful Hills of Brooklyn web site. Guest speakers, including the filmmakers, can be booked by contacting outreach@beautifulhillsofbrooklyn.com. Other purchase options can be found at Beautiful Hills of Brooklyn Online Store.
DFTA Launches New Procurement Process for Senior Centers
In October, the Department for the Aging launched a new process for identifying and procuring contractors to provide senior center services. The result of many months of consultation and development, the new process is intended to facilitate implementation of two models of senior center services—the "innovative center" model and the "neighborhood center" model—that over time will transform New York City's senior center network.
The creation of "Innovative Senior Centers" is a key feature of Age Friendly NYC, Mayor Bloomberg's blueprint for addressing the needs of New York City's growing age 60 and older population. As current centers do, Innovative Senior Centers will provide meals, recreation, education, and access to public services and benefits. However, they will offer a more comprehensive range of services and linkages to community resources. They will be accountable for creating "cutting-edge" programming, maintaining high participation rates and producing better health outcomes for older New Yorkers.
Neighborhood centers will more closely resemble current centers. "Our vision is of dynamic interaction between the two models," explains Commissioner Barrios-Paoli. "Together they will form a vibrant network that addresses service gaps, offers older adults more options and avoids duplication of services."
DFTA's new process to procure contractors to provide the two types of centers has two stages: a prequalification stage to identify potential vendors from whom DFTA will solicit narrative proposals, and a vendor selection stage based on proposals received. This two-step process, the first of its kind in City government, differs significantly from the traditional Request for Proposals process. It is intended to reduce the volume and complexity of paperwork usually required of proposers and thus to allow interested organizations time to focus on important programmatic elements.
DFTA is now in the process of prequalifying organizations that responded to its invitation to submit proposals by November 29th. Proposers who are deemed to have the experience and ability to provide innovative services based on their application will shortly be requested to submit narrative proposals. Because there will be future rounds of solicitation—for both innovative and neighborhood centers—interested organizations may apply for prequalification at any time.
Anyone interested in finding out more information can visit DFTA's website
Child Welfare Includes Sessions on Grandparent Caregiving
<![if !vml]>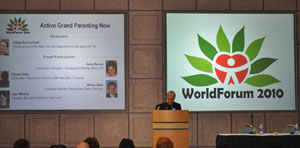 <![endif]>For the first time since its founding in l989, the International Forum for Child Welfare (IFCW) included a plenary session on grandparents raising grandchildren in their annual conference, November 8th - 11th. "IFCW is an international organization dedicated to highlighting the top issues affecting the rights and well-being of children. That they would include a session on grandparent caregivers shows what an important global issue it has become," says Digna Sanchez, Assistant Commissioner of the Department for the Aging and Steering Committee member. "On every continent—although generally for different reasons—programs and services are needed for these grandparent-headed families."
DFTA Commissioner Lilliam Barrios-Paoli moderated the session, which featured excerpts from an award-winning documentary, "Grandmother to Grandmother: New York to Tanzania." The film is about the Grandparent Family Apartments of Presbyterian Senior Services, located in the Bronx, and the Bibi Jan Academy in Tanzania, a preschool for AIDS orphans who are living with their grandparents.
Both Annie Barnes, one of the Bronx grandmothers featured in the film, and Fatuma Gwao, the Tanzanian woman who has made it her life's work to help children and grandparents bereaved by AIDS, participated on the panel, which also included Rimas Jasin, Executive Director of Presbyterian Senior Services, and Jann Mitchell, an American journalist who works in Africa and supports the Bibi Jan Academy.
The program concluded with a moving song about her father written by Yolanda Ruth Howard, a 15-year-old high school student being raised by her great-aunt at the Grandparent Family Apartments in the Bronx. The song, "Where Are You?" grew out of Yolanda's participation in a songwriting workshop at the Apartments presented through Carnegie Hall's Musical Connections Program (see next newsletter item below).
New Audiences for Carnegie Hall: Performing in the Community
Two years ago, the Weill Music Center of Carnegie Hall embarked on a mission: to bring live music to audiences that don't often get to hear it. To make sure "Musical Connections"—the name of the new initiative—would reach these audiences, the organization asked City agencies that serve disadvantaged populations to identify adult correctional and juvenile justice facilities, shelters, hospitals and "elder care" settings—including senior centers—that might welcome Carnegie Hall concerts at their sites.
Programs recommended by the Department for the Aging for the 2010-2011 year are Hudson Guild Senior Center; the United Hindu Cultural Council Senior Center; Diana Jones Senior Center; Lincoln Square Neighborhood NORC; two enriched housing sites (Alma Rangel Gardens and Brown Gardens), and the Grandparent Family Apartments of Presbyterian Senior Apartments.
In addition to two concerts, Hudson Guild requested a songwriting workshop from Musical Connections. Consequently, about 25 members worked intensively with a musician in weekly sessions over three months to shape their ideas into lyrics. On January 11th, the workshop culminated in a joint concert with Valley Lodge, a shelter for homeless seniors where a similar workshop had been held. Hudson Guild Group Activities Manager Yehudi Moch says of the concert, "There were serious songs, moving songs, the whole evening was about love and having a positive outlook, and everyone in the audience appreciated what an affirming thing had happened for the participants."
In September, Musical Connections arranged for the Toomai String Quintet to present an interactive concert of music at the United Hindu Cultural Council Center in Queens. The concert included everything from classical Indian music to more "Bollywood" type pieces, jazz and folk. "They had our center members dancing, clapping, talking about how the music makes them feel and just generally loving it," reports Program Director Seupersad Bagirathee.
The response at other programs has been similarly positive. The Sospiro Winds Ensemble had the seniors at Lincoln Square Neighborhood NORC staying past their lunchtime to ask questions about the music they had just heard and about music making in general. At the Grandparent Family Apartments, musicians helped a group of "grandkids" living in the apartments with their caregiver grandparents explore their feelings through songwriting. The intensive workshop culminated in a performance for the whole community. A second concert involved a performance of pop, jazz and cabaret designed for the grandparents.
The spring "season" will bring concerts to Diana Jones Senior Center and Alma Rangel Gardens as well as the second round of concerts for Hudson Guild, Lincoln Square Neighborhood and the Hindu Cultural Council Center. Aging network programs wishing to be considered for 2011-12 can receive additional details by emailing Gail Evans.
The Affordable Care Act: Impact on Medicare Beneficiaries
The Administration on Aging wants to get word out to seniors and service providers about important changes under the Patient Protection and Affordable Care Act of 2010 (ACA) that improve access and services for people with Medicare. Many of these changes will take place in 2011. Some even began this past January 1st.
Several improvements affect Medicare Preventive benefits. As of January 1st, Medicare will pay for an annual wellness visit to a physician. The beneficiary will receive a comprehensive health risk assessment and a personalized prevention plan. In addition, more people are now eligible for Medicare's smoking cessation counseling benefit. All beneficiaries who smoke can take advantage of as many as eight smoking cessation counseling sessions. There are also many services that now will require no cost-sharing, including breast cancer screening/mammograms, flu and Hepatitis B shots, physical exams and prostate cancer screening.
Visit Medicare.gov Preventive Services to learn more about Medicare-covered preventive benefits.
Additional changes include improvements to Medicare D. Beginning in 2011, people with Medicare will benefit from reduced cost-sharing for prescriptions they purchase while in the coverage gap (also known as the "doughnut hole"). They will save 50% on covered brand name prescriptions and receive a 7% discount on generic drugs. Medicare will continue to reduce beneficiary cost-sharing and phase out the Part D coverage gap until 2020. For more information (including what will count toward a person's True Out-of-Pocket or TrOOP costs), read the Medicare Prescription Drug pamphlet.
Furthermore, the annual open enrollment period in which people with Medicare may compare and enroll in Medicare Part D plans has been rescheduled and extended. Starting this year, the Annual Enrollment Period will begin October 15th and continue until December 7th. (Previously, the period ran from November 15th through December 31st.)
For an overview of the impact of these and additional changes for Medicare beneficiaries, including changes to Medicare Advantage Plans and the low-income subsidy, please visit HealthCare.gov.
Program Focus: Decking the Halls at Elmhurst Jackson Heights
<![if !vml]>
<![endif]>Senior centers are usually closed Christmas Day, but not Elmhurst Jackson Heights, sponsored by the Institute for the Puerto Rican/Hispanic Elderly, Inc. For three Christmases in a row, the doors at this Queens senior center have opened for revelry on December 25th. There's a sumptuous meal. There's dancing and entertainment. There's a raffle. Santas—many of them—distribute gifts. Some seniors who attend have no family and would otherwise be home alone; some happily bring their children and grandchildren.
This last Christmas, more than 450 guests—center members, family members, center staff, Title Vs, community volunteers—crowded the center's halls and corridors. Even the rafters rang with merriment.
"We all work together," said Center Director Lucy Garcia, describing how the whole community of Elmhurst Jackson Heights contributes to the event. Lucy spearheads the effort, along with Edwardo Giraldo, Director of the Queens Hispanic Chamber of Commerce, and his wife, Patricia. "We're at the point now," says Garcia, "where it all comes together pretty smoothly. We reach out to merchants and vendors, and if I know of someone we'd like to have volunteer, I call them, but people also hear about it through word-of-mouth, and they reach out to us. It's become a community initiative."
As in previous years, this past Christmas Day local vendors supplied the turkey, roast pork, chicken, rice, salads and desserts, which were served sit-down style to the seniors and their families by volunteers. This year the volunteer servers were a group of employees from Walgreens. Helping in the kitchen were another group of volunteers, practiced hands from the Lions Club of Queens.
A DJ who often plays at the center volunteered his services for the party. A local Ecuadorian dance group helped to raise spirits still higher. "We danced all day," reports Garcia, "and everyone joined in." She chuckles at the memory of one young person—a youth from a civic-minded group of teenagers who all dressed as Santa Claus—asking with concern, "Is it alright for us to dance with the seniors?" Delighted by this spontaneous turn of events, Garcia assured him, "Dance away!"
No further encouragement was needed.
NYC Aging Network Perseveres During Christmas Blizzard
DFTA's programs didn't let 19 inches of snow stop their efforts to assist seniors in the waning days of December 2010. Here's to a job well done, with special kudos to the many staff that came in early, worked late, trudged on foot through snow banks and ice to deliver meals to seniors and generally exhibited a dedication that went above and beyond their job descriptions.