June 2011
June 2011
In This Issue:
Celebrating Older Americans Month
Senior Safety Education through Theater
Grandma Gets an "Ambush Makeover" on the Today Show
Tackling the Challenge of an Aging Workforce
Paper Social Security Checks in 2013: Going, Going, Gone!
New York City Elder Abuse Network to Launch Website
Come Away to Governor's Island!


Recognizing Older Americans across New York City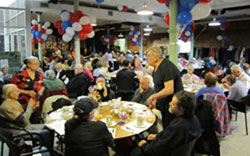 Every May since 1963, the President of the United States has issued a proclamation declaring May Older Americans Month and asking communities across America to celebrate the enormous contribution of older Americans. This year, in honor of Older Americans Month, the New York Aquarium on Coney Island designated a number of free tickets for members of Brooklyn senior centers on Tuesday afternoons in May. The Bronx Zoo also showed their appreciation of seniors with a free admission day for a select number of senior centers and other DFTA programs on May 20th.
Throughout DFTA's network, individual centers paid homage to Older Americans Month through various activities, according to a survey the Department conducted. Several centers registered to participate in the Video Game Tournament hosted by the U.S. Administration on Aging and the National Institute of Senior Centers in recognition of Older Americans month. Centers used the interactive Nintendo Wii video game to compete. Those with the highest average score over two rounds of bowling were publicly recognized and the highest-scoring players were announced on the Older Americans web site after each round of play. Participants included Goddard-Riverside Center (Manhattan), the Selfhelp Benjamin Rosenthal-Prince Street Center (Brooklyn) and all the Staten Island Friendship Clubs.
Centers that honored individual members for their outstanding leadership and community service included Rain Boston Road Senior Center (Bronx), JASA Van Cortland Senior Center (Bronx), the Carter Burden Center (Manhattan), HANAC Archbishop Iakovos Senior Center (Queens); Ocean Parkway Senior Center (Brooklyn); the Association of Black Social Workers Senior Center (Manhattan); RAICES Corona Senior Center (Queens); and Queensbridge Riis Center (Queens).
The William Hodson Community Center (Bronx) hosted a week of special events, including health workshops, a concert and an art exhibit by center members. The, Carter Burden Center in Manhattan celebrated Senior Week with different themes and fun events for each day, including a Volunteer Recognition Day and a gala luncheon complete with live music and food prepared for more than 150 seniors by a celebrity chef from Café Boulud (see picture).
Some centers set aside special "days" to recognize their seniors as "Older Americans." JASA Far Rockaway Park (Queens) celebrated with a special breakfast; Cassidy Coles (Staten Island) honored about 100 members and their guests with lunch, cake and ice cream. RAICES Times Plaza Senior Center (Brooklyn) held a celebration for about 70, with "entertainment, music, history, poems and jokes." PSS Andrew Jackson Center (Bronx) hosted a picnic at which two members were recognized for their hard work and dedication. Red Hook Senior Center (Brooklyn) celebrated with a one-mile walk and a musical presentation by a community-based arts organization. Diana Jones (Brookyn) opened on a Saturday to host 120 celebrants and to especially recognize 27 of the center's volunteers. Queensbridge Riis Senior Center (Queens) arranged for a soul jazz band whose members had played with the likes of Harry Belafonte and Diana Ross to visit the center.
Since May is also Asian American and Pacific Islander Heritage Month, the Open Door Senior Center (Manhattan) held a house party for its largely Asian community that celebrated both the center's older members and their heritage. Memorial Day and Mother's Day also saw celebrations of centers' veterans, mothers and grandmothers.
Our thanks to all the centers who submitted descriptions of their activities, and in some cases photos. We appreciate your enthusiasm and regret we were not able to use all due to space constraints.
The Power of Theater: Safety Education Skits Get Thumbs Up from Center Members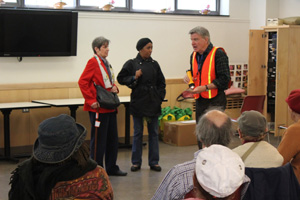 Working in collaboration with the Department of Transportation's (DOT) safety education department, the theater group Plays for Living has been transforming senior pedestrian safety into high drama for the members of 25 senior centers in high traffic areas. At Goddard-Riverside Senior Center in Manhattan, May 10th, the "theater" was only the center's lunch room - no stage, no scenery (see picture). But talented actors, appealing to the seniors' own imaginations, provided all that was needed to electrify the audience. Safety education came alive!

Enlisting seniors in advocating for pedestrian improvements is central to this safety education initiative. The presentation consists of three skits, each one followed by a discussion with the seniors about their reactions to the situation depicted and about how their own neighborhood measures up in terms of street safety. The discussion facilitator encourages the seniors to make their issues known to DOT and to invite DOT representatives to visit their center and take a walk with members to identify local hazards.

DOT is currently undertaking a major project to make the city's streets safer for seniors as part of Age Friendly NYC, a partnership of the Mayor, the City Council and the NY Academy of Medicine to re-envision the City's response to its growing older population. Having examined accident histories across the city and identified 25 neighborhoods that have both a high density of senior citizens and a high number of pedestrian accidents or injuries, DOT is now making engineering changes such as improving visibility and lighting, extending pedestrian crossing times at crosswalks, altering curbs and sidewalks, restricting vehicle turns and narrowing roadways.

Grandma Gets an Ambush Makeover from the Today Show

Fifty-nine-year-old Estrella Caban, a grandma taking full-time care of her two young grandchildren, says she cried "from emotion and happiness" after seeing her transformation on the Today Show's Ambush Makeover segment on April 1 (see picture). With new clothes, a new hairdo and a new "face," Caban emerged from her three-hour makeover as a "gorgeous, vital lady, a Jennifer Lopez look-alike!" in the words of the hair and make-up artist Louis Licari. "Are you ready to be the hottest grandma in the country?" he asked as he led her away.
Caban was chosen for an Ambush Makeover after DFTA's Grandparent Resource Center (GRC) had submitted her picture and a description of her dedication to her grandchildren to the Today Show. Caban says she was happy to serve as the "poster" grandma for the thousands of grandparent caregivers who sacrifice so much to bring up their grandchildren in the absence of the kids' parents. A member of a DFTA grandparent support group, Caban spends her days trying her best to "parent" her grandkids and to help her fellow support group members. "I will do anything I can to heighten awareness of the issues we face," she says.
Caban is still feeling the excitement of being pampered for three hours. "They're amazing and supportive, and everything goes very fast," she recalls. "At one point I had four people working on my head!" The day after her make-over, her friends at her grandkids' school and at church hardly recognized her when she walked into meetings. Not only did she look fabulous, she was walking on air.
Tackling the Challenge of an Aging Workforce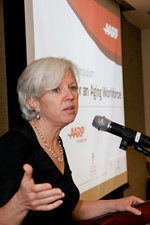 Whether the nation's 76 million boomers hitting their sixties choose to retire or whether they choose to continue working, their aging will have a major impact on the workforce of the 21st century. If large numbers leave, the workforce will not only lose workers, it will lose their institutional knowledge and problem-solving experience. If large numbers choose to remain employed, the make-up of the workforce itself will change. It will be a multigenerational workforce, and as such, will pose a new set of issues.

To begin preparing for this challenge, AARP and Age-friendly NYC, a partnership of the Mayor's Office, the New York City Council and the New York Academy of Medicine, convened approximately 200 leaders from business, industry, education/training, government and economic development at a symposium on May 4th.

Among the issues discussed was the need to encourage older workers to remain in the workforce through practices such as flex time, phased retirement and compensation for knowledge transfer. At the same time, older workers seeking to return to the workforce in today's world of social networking and emailed resumes need programs that build their job-searching skills. Most basic of all, companies need to hear the case for retaining and hiring older workers.

Another focus of the symposium was the changes that will be required by the shift to a multigenerational workforce. It will be necessary to address age discrimination among workers of all ages and to build communication and trust between the generations. This workforce will also face major challenges from the speed of technological advances. Although older workers may experience a more severe skills gap, the twenty-first century workplace must ensure ongoing retooling and retraining of the entire workforce.

Deputy Mayor Linda Gibbs was the keynote speaker (see picture). She related the themes of the conference to the goals of an "Age-friendly New York City." Department for the Aging Commissioner Lilliam Paoli-Barrios, a member of the Age Friendly NYC Commission, also attended the symposium, while DFTA's Deputy Commissioner Caryn Resnick and Chief of Staff Gabriel Oberfield, both of whom serve on a Commission workgroup devoted to aging and the business community, participated in the planning.

Change Ahead for Seniors as U.S. Treasury Switches to Electronic Deposits

Seniors who receive social security checks or other benefit checks through the mail need to take notice of an important new requirement. The U.S. Department of the Treasury will soon phase out issuing paper checks in favor of electronic deposit. By March 1st, 2013, people currently receiving checks will need to switch to either direct deposit to the bank or credit union account of their choice or to a Direct Express Debit Master Card account. No bank account or credit check is required for the Treasury-recommended prepaid Debit Card.

New applicants for federal benefits should be ready to sign up for direct deposit by having their account type (checking or savings) account number and financial institution's routing number on-hand. This allows for a smooth enrollment. If they would like to use a Direct Express Card instead, they should indicate this preference when they apply.

Current recipients of federal benefits by paper check should make the switch today to get their money in a safer, more reliable way immediately. They can sign up for direct deposit online at www.godirect.org or by calling (800)-333 -1795, or by visiting their local bank/credit union branch or federal benefit agency office. Those who prefer a prepaid debit card can sign up for the Direct Express Card by calling toll-free (800) 333-1795, signing up online at www.godirect.org or contacting their local federal benefit agency.

The Treasury Department is switching to electronic payment because of its many advantages. For one, it's safer - in 2010, an estimated $93 million in checks issued by the Treasury Department, including Social Security and other federal benefit payments, were fraudulently endorsed. It's also more convenient, especially for people who are aging or disabled or who lack transportation to get to their bank. And it saves taxpayers money. With 78 million baby boomers set to retire in the next 20 years, replacing all checks with direct deposit could save taxpayers more than $120 million annually.

New York City Elder Abuse Network (NYCEAN) to Launch Website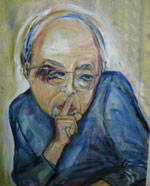 In recognition of World Elder Abuse Awareness Day, on June 15th the New York City Elder Abuse Network (NYCEAN) will launch its website, which will serve as a resource and connection point for elder abuse professionals citywide. To coincide with the launch, NYCEAN will also announce the winner of its art contest, "What does elder abuse mean to you?" and submissions will be displayed on the website. Several DFTA-funded senior centers participated in the contest. One of the submissions is displayed to the left.
NYCEAN's new website will include a resource guide for elder-abuse related services, resources geared toward immigrant communities, and information about the organization and its members. "NYCEAN is committed to increasing the discussion and awareness of elder abuse, as well as connecting seniors, professionals and the New York City community, until there are no more victims," said Deirdre Lok, a co-chair of the network. The Department for the Aging was a founding partner of the network in 2003. Since its founding, the network has steadily developed into a major forum of linkage and coordination to prevent and address the mistreatment of elders through advocacy, education and services.
Come Away to Governor's Island: New Yorkers' Newest Fun Spot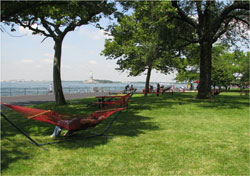 New York City is beckoning visitors to explore its newest acquisition out in New York Harbor. It's name? Governor's Island.
Transferred by the federal government to the "people of New York City" in 2003, the Island's 172 acres of car-free green space are a wonderful free resource. Senior center groups in particular - and seniors and their families - are bound to enjoy the Island's free art exhibitions, including a show of Mark di Survero's work presented by the Storm King Art Center, concerts and performances as well as artist-designed miniature golf, boating and strolling areas and quiet places to sit and relax.
Trams are available to take visitors to Picnic Point (see picture), one of the Island's most scenic and popular areas, where there are picnic tables, Adirondack chairs, hammocks and unparalleled views of the Statue of Liberty and New York Harbor. Seniors can picnic, play lawn games or organize other activities. Trams will also take them around the Island to see the Storm King exhibition.
For more information visit the Governors Island website at www.govisland.com or call 311.