June 2010
June 2010
In This Issue:
Budget Reductions Compel Senior Center Closings
Intergenerational Work Study Program Honors Top Students
Centers Survey Street Safety for Complete Streets Program
New Senior Alert System Helps Make New York More Age-Friendly
Senior Job Fair Attracts Mature Workers and Employers
New Tool Measures Cost of Living for New York's Seniors
Virtual Senior Center Transforms Lives of the Homebound
It's My Money! Free Financial Literacy Game for Seniors
Free Resource for Art Programs
Centenarian's Adventurous, Eminent and Resourceful Life Celebrated at JASA

Painful Decisions: 50 Centers to Close
In the face of significant State budget reductions and daunting fiscal conditions in the City, the Department for the Aging has made the very difficult decision to close 50 senior centers. To identify these 50 centers, DFTA adhered to strict criteria: (1) centers serving fewer than 30 meals daily; (2) part-time and satellite centers; and (3) centers with consistently poor ratings in VENDEX (the City's contract evaluation system) or other chronic issues.
By focusing on centers that fit these three criteria, DFTA sought to keep the number of seniors affected at a minimum. The 50 centers provide only about five percent of the meals served in the senior center network. Other centers nearby the closing centers will now provide these meals and DFTA will provide seniors with transportation from the closing sites to these nearby sites to ease their transition.
For more information or to find out about sites affected, seniors and caregivers should call 311.
Intergenerational Program Honors Top Students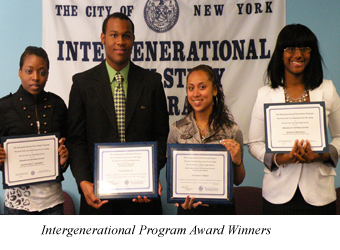 DFTA marked the 23rd anniversary of the City's Intergenerational Work Study Program (IWSP) with a scholarship awards ceremony on May 20. The IWSP is a partnership between DFTA and the Department of Education to provide New York City high school youth with service-learning opportunities in senior centers, nursing homes and other senior settings. This year more than 300 students provided close to 50,000 hours of service at twenty work sites.
For nineteen years, the Scarfia family of Staten Island has been awarding a college scholarship to a graduating ISWP student in the name of a young family member whose life was turned around by the program before his untimely death. This year's Scarfia scholarship winner was graduating IWSP student, Vernal Bent, Jr. Vernal attends Clara Barton High School for the Health Professions and provided service at the Cobble Hill Health Center.
Alexandra Muniz of Bronx Health Sciences High School was presented with a "Student of the Year" Scholarship Award by the Fort Green Council, Inc., which established its scholarship for IWSP students in May 2005. The scholarship is presented to the runner-up Scarfia nominee. The amount awarded is donated by seniors who attend Fort Green Council senior centers and who are proud of their role in "mentoring" the IWSP youth.
The Awards Ceremony also recognized Jessica Mathieu and Deatchra C. Skerritt, both of Clara Barton High School, for providing exemplary service to seniors during the school year.
Center Members Fired Up by Mission to Assess Pedestrian Safety
More than 40 New York City senior centers participated in Complete Streets Week: Making New York Walkable for all Generations during the week of April 19. Complete Streets is a national campaign spearheaded in New York State by AARP and championed in New York City by City Council Speaker Christine Quinn and AARP's local branch.
The goal of Complete Streets was to identify intersections across the state that pose a danger to older walkers. Organizers plan to use the data to advocate for roadway improvements and for Complete Streets legislation that ensures pedestrian needs are taken into account in the design, planning, maintenance and operation of roads.
Armed with Complete Streets survey tools and pencils/pens, volunteers from myriad organizations, including the senior centers, assessed intersections in their own neighborhoods for factors that impact walker safety, including traffic and crossing signals, crosswalk markings and speed limits.
An enthusiastic group of 13 seniors and three staff from JASA Roy Reuther Center in Far Rockaway set out to survey the major six lane intersection at Seagirt Blvd and Beach 9th Street, but on their way they identified two other intersections and many other street safety issues that needed attention as well. "The seniors were terrific," reports center director Sydney Lombardi and her civic corps volunteer, Britney Gaddy. "They were so interested and involved, pointing out conditions such as potholes that could be dangerous to someone in a wheelchair, or asphalt that needed repair around manholes or even bus stops they thought were unsafe," said Lombardi. "It was even eye-opening to me, and I've lived here many years!"
Surveys were conducted in large cities, suburban neighborhoods, small rural streets and multicultural communities across the State. By the end of Complete Streets Week, over 2,000 volunteers across the State had surveyed 500 streets and intersections and the initiative had generated 100 media stories and engaged 60 city and state legislators. AARP is currently analyzing survey results.
City Announces New Senior Alert System
New York City has launched a Senior Alert system to help locate missing seniors at risk. The NY City Police Department will now issue a Senior Alert when senior citizens with cognitive impairments go missing. These notifications will be sent through the City's Notify NYC system to subscribers in the borough of the missing person, and to the media. They will also be wirelessly transmitted to yellow taxis. The public will be asked to call in any tips to a special number.
"Senior Alert offers caregivers the comfort of knowing that when loved elders go missing, the City will marshal all possible resources to find them," said Commissioner Barrios-Paoli of the New York City Department for the Aging. In 2009, Mayor Bloomberg, Speaker Quinn and the NY Academy of Medicine announced 59 initiatives to encourage safe, active and healthy living for seniors. Among them was Senior Alert. "This initiative addresses the City's safety concerns about the growing number of older adults affected by Alzheimer's disease and other forms of dementia and cognitive impairment as a consequence of longevity," the Commissioner added. "It's an age-friendly response to an emerging problem."
To support the Senior Alert system, the Department for the Aging, the NYPD and the Office of Emergency Management are working with the City Council to introduce legislation to create Silver Alerts. Like Amber Alerts, Silver Alerts would be activated for the highest-priority cases and involve notification to a wide audience, including hospitals, senior centers and other public venues. Silver Alert would be the first such municipal program, although similar programs are in place in more than two dozen states.
Launched in May 2009, Citywide Notify NYC allows residents in all five boroughs to register multiple email addresses, text message accounts and phone numbers where they can receive Notify NYC advisories about events in up to five zip codes. To date, more than 45,500 people have voluntarily enrolled in the program.
Job Seekers and Employers Win Big at Mature Worker Job Fair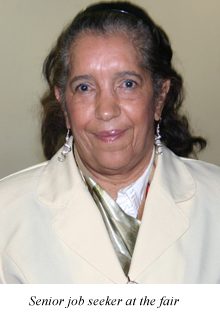 Some employers are hiring. That was good news for the more than 300 Title V trainees who attended the Department for the Aging's senior employment fair in March. Twenty-five large and small companies participated, looking to fill positions in the security, retail and health care job sectors.

Through DFTA's Senior Employment Services Unit, low and moderate-income seniors eligible for Title V receive free training and job placement assistance. The Title V trainees who came to find out about job opportunities were confident, excited and curious. They were dressed professionally, in suits, and held on to copies of their resumes printed on ivory linen stationery. They meant business.

The Employment Fair packed two rooms at DFTA's Senior Employment Services Unit offices at 220 Church Street. Some job searchers lined up at recruiters' tables, waiting their turn to speak to company representatives. Others just moved in and out of the crowds quickly, picking up literature first. The noise level created a buzz.

Maria Ayala, 71, had formerly worked as a home health aide but came to the employment fair looking for a job in retail sales. She visited each employer's table with confidence. "It's not that I'm going to try getting a job, I'm going to get one!" she said.

Employers who participate in the senior employment job fair say they often find matches for their needs. CVS, which has targeted seniors as employees for about five years, recognized early-on the value of hiring mature workers. "Older adults come from a time when a good work ethic and manners were extremely important, so they provide excellent customer service," said Beverly Schutzman, workforce development specialist and success trainer at CVS.

Adecco, a major temporary staffing agency, was at the fair looking to hire 100 temporary full-time ushers and cashiers with customer service experience for one of their clients-a circus that was coming to New York in April and would run through June. They would work five to seven hours a day for $11 an hour.

Metro-North Railroad, another major employer that attended, left feeling certain they would be hiring several of the seniors they met.

Those interested in the Senior Employment Services Unit and Title V program should call 311.

Elder Economic Index Calculates Cost of Living for 65+

How much money do New York seniors need to meet the real costs of living in their own homes and communities? This is the question answered by the New York Elder Index, a new tool for financial planning for life at age 65 and older and for evaluating how well public policies and programs are preserving economic security for older adults.

NY State is the tenth state to officially launch a State Elder Index, which is part of a national advocacy, education and outreach initiative aimed at calling attention to the gap between older persons' actual income and what it costs for them to achieve economic security.

The Elder Economic Security Initiative and Index were developed by Wider Opportunities for Women (WOW) and the Gerontology Institute of the University of Massachusetts. The New York Statewide Senior Action Council, Inc. is spearheading the project in New York State. It has overseen development of an Index for the State that quantifies the actual costs of basic expenses for older adults in each county, taking into account housing expenses (whether as a homeowner with a mortgage, a homeowner with no mortgage, or a renter); marital status; transportation costs and need for home and community-based long term care.

Commissioner Lilliam Barrios-Paoli of the New York City Department for the Aging hailed the Index as providing "real life" information about what it costs in different boroughs of the City to live with dignity as an older person. She pointed out that as a measure of economic security rather than of poverty, it is a valuable supplement to the traditional standard for determining financial need - the federal poverty level. It also provides a more accurate picture of economic distress. Although 18.4% of older New Yorkers lives in poverty, 25% is economically insecure, according to the Index.

Virtual Senior Center Restores Life to the Homebound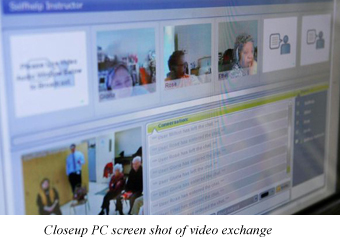 Six homebound and isolated former members of Selfhelp's Benjamin Rosenthal Center are once again participating in activities at the center thanks to a pilot program that uses computer, video and Internet technology to create a "virtual" senior center.
Participant Milton Greidinger, 86, says, "Before this project I was bored to death. I was just waiting for my time to finish. Now all of a sudden, I'm wide awake. I'm alive again."
With his new computer, Greidinger now spends hours researching topics he finds interesting and locating old friends - sometimes old flames - online. He is exploring how he can use the computer to streamline his home-based business, selling gift items, and has started using Microsoft HealthVault to monitor his blood pressure. Fascinated by the computer's possibilities, he orders groceries online, posts video blogs, exchanges emails and hosts video chats. Through the "virtual senior center," he participates in interactive discussion groups and enjoys observing or taking part in art, Tai Chi, ping pong and dancing.
One of the things Ethel Warfield, 81, likes best about the Virtual Senior Center Project is the ease with which she can now follow the news and keep up on current events. "I'm so much more interested in what's going on because I can see and hear so much more with the computer than I can with radio and TV," she says. Warfield makes use of the built-in accessibility features in Windows as well as some of the assistive technology available. She uses Magnifier in Windows 7 to enlarge portions of the computer screen and sometimes employs a screen reader that read text aloud when she points her mouse at certain sections of the screen.
Warfield also posts video blogs, emails family members and a few friends, plays Solitaire and other games on the computer and either observes or takes part in center activities such as tai chi, ping pong and dancing. Warfield is also an active participant in the current events discussion group and regularly uses Skype to talk with her social worker.
At 103, Adele Lerner is nearly 20 years older than the next oldest senior in the project. Lerner had a computer she didn't use much prior to joining the Virtual Senior Center. Today she is using interactive technology to record a personal video blog, participate in art and calligraphy classes and discussion groups at the Center and engage in religious services streamlined live from the New York Central Synagogue. Lerner also uses her computer and a small webcam to talk face-to-face with her social workers and family members. "I am in the best place now: Modern Land," she says. "I love it here."
Over the past two years, Microsoft, Selfhelp Community Services, DFTA and DoITT (the Department of Information Technology and Telecommunications) have collaborated on this project to help alleviate the isolation and loneliness of homebound seniors through "digital inclusion." Microsoft provided the technology - desktop computers, touch screen monitors, adaptive modifications, video cameras and broadband Internet for the six seniors, and cameras, monitors and Internet access for the centers. Selfhelp provided essential infrastructure: senior center, case managers, clients, and administrative and technical staff support; DFTA and DoITT represented the City, with DFTA serving as the connecting link among the partners.
Seniors Learn to Say "It's My Money!"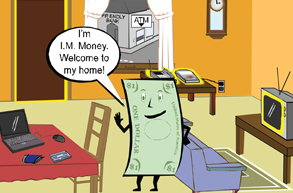 A free, multi-lingual and culturally competent teaching tool that helps seniors learn how to protect themselves against predatory financial schemes was released by the Aging in New York Fund and the Department for the Aging in February. Called "It's My Money!" the tool is an interactive computer videogame suitable for team play at senior centers and other congregate sites or by individuals at home. It contains two units, Senior Scams Prevention and Identity Theft Prevention.
Participants follow various scenarios illustrating identity theft and different scams. To score points, they correctly answer questions about how they can protect themselves. The game's efficacy and cultural competency were tested at more than 40 senior centers. It can be downloaded in English, Spanish, Russian and Chinese from http://www.nyc.gov/ and http://www.anyf.org/
The Aging in New York Fund is the not-for-profit arm of the Department for the Aging.
Free Arts Resource for Senior Programs
Are you in need of art materials for your senior center or other non-profit organization? If you have an ongoing art program that needs supplies, a wealth of materials is available free from Materials for the Arts (MFA). A program of the Department of Cultural Affairs in partnership with the Departments of Education and Sanitation, MFTA has a 35,000-square-foot facility in Long Island City chock-full of donated items from craft items such as rolls of paper, fabric and paint to office chairs and equipment. Materials are gathered from companies and individuals that no longer need them and redistributed to the artists and educators that do.
Recipient organizations just need to register online with MFTA to begin using this fantastic resource. Individuals and organizations can also donate to MFTA at the same web site.
JASA Fetes 100-Year-Old Member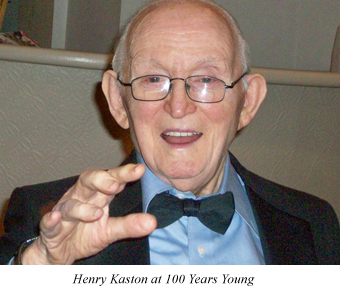 On Tuesday, February 16 of this year a 100th birthday celebration for member Henry Kaston took place at the JASA West Side Senior Center. Kaston's life reads like a novel: adventure, intrigue, excitement, exalted circles and a long and eminent career both as a violinist and as one of the foremost violin bow makers of the world.
Born in Poland, Kaston began playing violin at age seven. In 1937, he arrived in Paris to study at the Conservatoire de Paris, having worked as an acrobat in a circus to earn money for his trainfare. When Nazism began to darken Europe, he put his studying aside. He managed to obtain fake papers saying he was not Jewish and joined the Polish cavalry of the French army. He fought on the Maginot Line but was captured by the Nazis. Miraculously, he escaped to unoccupied France where he joined the Resistance. In 1941 through an "underground railroad" he was able to emigrate to the U.S., traveling on the same ship as his friend, the artist Marc Chagall.
Kaston's first job in New York was carrying luggage at Grand Central Station, but he soon found a position playing the violin in the Cleveland Orchestra. In 1943, he came back to New York and joined the Metropolitan Opera Orchestra, playing in the violin section for 35 years and retiring as first violinist.
As a chamber musician, he performed with many distinguished artists and was invited to join the famous informal quartet of Isaac Stern, Sascha Schneider and Albert Einstein (the Albert Einstein). He was a close friend of the late Jascha Heifetz (they designed a violin mute together and Henry taught Heifetz to drive) and also of Rudolph Bing, among many other musical notables.
Having studied bowmaking while in Paris, Henry returned to the craft during his years with the Met Opera and became a highly respected maker and restorer of violin bows. In the l960s he worked at the Wurlitzer violin shop in New York. Isaac Stern, Jascha Heifitz and many others have bows designed by Henry. His bows are part of the permanent collection at the Smithsonian, Metropolitan and Vatican Museums. They are also on exhibit at the Victoria and Albert Museum in London.
As if being a violinist and bow maker were not enough, Kaston also works with precious jewels. Many of his most prized bows are fashioned with jeweled frogs and buttons of precious materials, and his interest in working with gold and precious stones extends to jewelry making in general. A friend of Salvador Dali, he executed several Dali designs, many of which are on loan to the Cali Museum in Madrid. He also made exclusive jewelry pieces for Metropolitan Opera stars Lily Pons, Rise Stevens and Dorothy Kirsten and designed a pair of gold Paganini cuff links for Jascha Heifetz. Vera Stern, Loretta Corelli (Franco's wife) and Bess Truman are among many others who have pieces created by Henry.
Kaston attends JASA West Side Center three times a week, traveling from the east side where he lives. "We are so proud of him and the fact that he enjoys our programs and attends so faithfully," says Phyllis Roth, director of JASA West Side. More than 100 JASA members and staffers attended his party. A large chocolate cake was enjoyed by all, including Manhattan Borough President Scott Stringer and Linda Rosenthal, State Assembly Member.