February 2010
February 2010
In This Issue:
Commissioner's Message
The Department for the Aging Launches Age-friendly Initiatives
Age-friendly MarketRide Increases Seniors' Access to Supermarkets
Great Service Great City: Customer Service Initiatives at DFTA
SCRIE Moves to the Department of Finance
Busy Medicare Part D Sites Served Record Numbers
Chronix Disease Self-Management Program Expands, Assists Seniors
Program Focus: Short Story Buzz at Sirovich Senior Center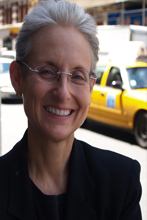 A year ago February 2nd I became Commissioner of the Department for the Aging and began one of the most gratifying experiences of my life. The work of the Department touches the lives of thousands of New York's older residents every day. It has been my goal to strengthen this positive impact and to promote and facilitate the City's commitment to becoming even more age-friendly as the number of older New Yorkers grows.
First I have sought to reach out to all the many stakeholders who want to be part of this effort so that we benefit from the broadest input possible. I've also tried to marshal creative and out-of-the-box thinking about resources and program design, and to make sure that in this time of economic uncertainty we are using precious dollars wisely.
Moving forward, I will continue to engage the aging community at every level, from program director staff at senior centers to executive directors at large community based organizations. Thank you again for all your input and support thus far. I can truly say we are moving in the right direction.
Lilliam Barrios-Paoli
Commissioner
New York Becomes Even More Age-friendly as Initiatives Kick-off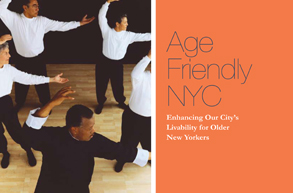 Age-friendly NYC is a comprehensive blueprint for promoting active aging released last summer by Mayor Bloomberg, the City Council and the New York Academy of Medicine. The blueprint's 59 initiatives spell out the City's plans for enhancing New York's "livability" for older residents in light of demographic changes that are expected to increase the City's older population by almost 50% within 25 years.
While the initiatives are grouped into four main areas - community and civic participation; housing; public spaces and transportation; and health and social services - they range from issues as public as pedestrian safety and the design of public seating to more private concerns such as management of health and the role of palliative care.
Several DFTA-managed initiatives are already underway. Through Space for Art, selected senior centers in each borough are offering "free" workspace to local artists in return for artist-led creative activities for center members. DFTA, the Department of Cultural Affairs, borough arts councils and senior centers are collaborating on this project. The artist selection process is near completion, and artists are expected to start their center "residencies" in March.
TimeBanksNYC is being launched as a joint Age-Friendly NYC and NYC Service initiative by DFTA, the Aging in New York Fund (DFTA's philanthropic arm), and the New York Visiting Nurse Service. TimeBanksNYC is a free resource for connecting individuals who recognize that community is strengthened when neighbors help one another with a wide range of services. A person who joins TimeBanksNYC earns a time credit for each hour he or she volunteers to provide a service to another member. The person can then redeem the time credit for a service he or she wants or needs from someone else in the network. DFTA currently has neighborhood sites in each of the five boroughs and plans to open approximately 25 additional sites in 2010. Any New Yorker 18 years of age or older can call 1-866-244-6469 or log on to NYC Service and click through to TimeBanksNYC to register to become a member and attend an orientation.
Senior Ride to Market: A Healthy Eating Initiative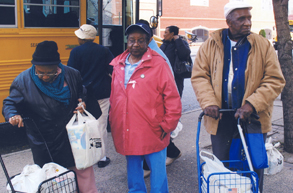 For the past several years school buses and their drivers have been taking senior center members on trips during the hours when kids are in school and the buses would otherwise be sitting idle. This arrangement between the Department of Education (DOE) and the Department for the Aging (DFTA) has provided hundreds of seniors with visits to museums, parks or other public places. Now DFTA and DOE have raised the program up a notch with MarketRide, an initiative focused specifically on providing seniors with trips via school bus to supermarkets and green markets where they can find fresh produce and healthful foods.
MarketRide was launched at the beginning of the school year, when roughly two dozen seniors from Raices Times Plaza Senior Center climbed aboard Bus 2261, which normally ferries students across Park Slope. The bus headed to Fairway on Atlantic Avenue in Red Hook, where the seniors loaded up on everything from apples to Caribbean cooking spices.
MarketRide addresses a goal of the Mayor's Age Friendly NYC Initiative. "The City wants to make it easier for seniors who live in neighborhoods where there are few supermarkets and limited access to fresh fruit or vegetables to obtain nutritious foods," said Commissioner Barrios-Paoli of DFTA. And there's an additional benefit. "It's like a little outing," said Carmen Senda, one of the riders, appreciatively, as she settled into a conversation with her seatmate.
MarketRide is now available to senior centers in all five boroughs. Seniors should contact their local senior center to inquire whether it is participating in the program.
Great Service Great City: DFTA Prioritizes Customer Service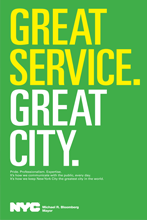 Mayor Bloomberg's "Great Service Great City" initiative, now in its second year, aims to make New York City government world class in customer service. The Department for the Aging and other City agencies are committed to ensuring that every person who interacts with city government receives the best customer service possible.

DFTA's customer service initiatives include a recent survey of home-delivered meals clients to gain insight into the quality of the meals and the service they receive. Surveys were sent in English, Spanish, Polish, Italian, Chinese, Russian and Korean. Responses are currently being analyzed and the results will inform DFTA's home-delivered meals effort going forward.

DFTA is also training staff on customer service principles including cultural competency. Additionally, the agency is making interpretation and translation services widely available to improve access for the more than 60% of the City's population whose ability to speak and understand English is limited. Through DFTA's new contract with an interpretation service, the agency's direct service units now have the capability to serve older non-English speaking clients even when they do not have the staff who speak the language needed. Workers can help callers who need assistance in a language by dialing up the service, which then provides an appropriate bilingual interpreter in real-time. Dual headset phones are available for walk-in clients. Worker and client each uses a headset to connect with a bilingual interpreter over the phone.

Units with this enhanced language assistance capacity include the Senior Resource Center, The Alzheimer's and Caregivers Resource Center, Senior Employment Services, the Health Insurance Information Counseling and Assistance Program (HIICAP), The Grandparents Resource Center and the Elderly Crime Victims Resource Center.

The first person to use the headset in DFTA's walk-in Senior Resource Center was Albanian. Walking in within minutes of installation of the phone, he was able to point to the sign announcing the availability of interpreter services and request services. Assistance through an Albanian interpreter was provided "without a hitch," according to the director of the Center.

Senior Citizen Rent Increase Exemption (SCRIE) Program Transfered

This past fall, DFTA officially transferred administration of the Senior Citizen Rent Increase Exemption program, or SCRIE, to the Department of Finance. SCRIE provides eligible elderly renters with exemptions from most future rent increases through tax exemptions to landlords.

Transfer of this benefit program is expected to make it easier for seniors to apply. The Department of Finance has electronic access to the birth certificates and income tax statements needed in the application process. The process will now be much simpler and faster for seniors and reduce the number of questions that arise. A new SCRIE application is available on the Department of Finance website.

Neighborhood Medicare Part D Sites See More Seniors than Ever Before

DFTA's 30 Part D enrollment and information centers saw a greater number of seniors than ever before during the Medicare Part D enrollment period between November 15th and December 31st. Close to 3,000 counseling sessions were conducted during the three month period. "As New Yorkers learn about the program and how it can help them make the right enrollment choice in terms of terms of both dollars and coverage, we've seen a tremendous increase in people seeking our assistance," said Amy Bernstein, Director of DFTA's Health Information Assistance and Counseling Program (HIICAP) which oversees the enrollment centers.

Bernstein pointed out that New York State seniors were offered 48 pharmaceutical plans to choose from, and close to 50 Medicare Advantage Plans as well as straight Medicare. "We have experts available to help beneficiaries and caregivers compare plans and select and enroll in the one best for them," she explained. HIICAP has been assisting older New Yorkers to select the best plan for them since 2003 when Medicare Part D first went into effect.

DFTA Expands Chronic Disease Self-Management Program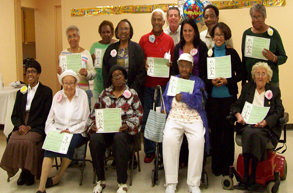 The NY State Office for Aging (NYSOFA) recently renewed funding for a fourth year of DFTA's Chronic Disease Self-Management Program (CDSMP). Developed by Stanford University with funding from the US Department of Health and Human Services, CDSMP and its Spanish version, Tomando Control, has been proven to delay or reduce the disabilities that frequently accompany chronic diseases. The program will continue to engage seniors living in NORCs (Naturally Occurring Retirement Communities).
At the same time Emblem Health is helping DFTA extend the program to senior centers citywide. Emblem will provide trained leaders and resource materials at no cost to interested senior centers. Roll-out of the Emblem-funded initiative has begun at seven centers in Brooklyn.
CDSMP and Tomando Control consist of six weekly workshops of two and one half hours each that are attended by people with different chronic health problems. Each participant receives a copy of the course workbook and a certificate when the course is completed. As they work through the different topics in the classroom format, participants share their experiences and efforts to change their health behavior with each other. They begin to develop the skills and confidence to manage their chronic health problems and to be more active.
A study of CDSMP effectiveness conducted by the federal Agency for Healthcare Research and Quality showed that participants had improved on a variety of health related measures including more energy and less fatigue, reduced health stress and fewer visits to physicians and emergency rooms.
Program Spotlight: Short Stories Spark Lively Discussion at Sirovich Center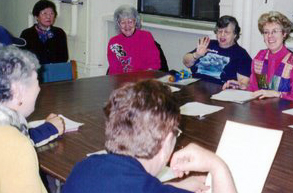 The weekly short story discussion group at Sirovich Senior Center in Manhattan has a loyal following. On November 9, the last day of fall's eight-week session, nine center members with a love of reading gathered to share with each other their reactions to the Primo Levi story "A Tranquil Star" that had been assigned by their instructor, Cindy Ofer. The nine were diverse in many ways. Two were Russian immigrants, two were Chinese and one was Japanese. They were diverse in background as well, including a former dentist, a musician/psychotherapist, a bar and restaurant owner and a ballet dancer.
Everyone had something to say about the Levi story, which is in two parts with no apparent connection. The first part is about the lifespan of a far-off star and the second is about the impact of that star's explosion on the plans for a Saturday excursion of an observatory-dwelling astronomer and his family. "How do you connect the parts?" asked Ms. Ofer. "That's the challenge."
Ivy remarked that despite her difficulty as a non-native speaker with the story's syntax, the story itself made her smile at the absurdity of how far-away things can affect everyday life. Ed talked about the different levels of reality in the story. Others spoke about the narrator and his cool objectivity "like a scientist;" about how as one ages one becomes more aware that "everything goes on"; even about relativity and issues of self-determination and destiny in a cosmos where "most of us are grounded in our own species, tied into the human dimension although in reality there are galaxies and galaxies outside us."
At times the discussion turned personal. Takami challenged Ed at one point with "you're a man and I'm a woman and we see things differently" and Ninette talked about her own life as the wife of someone whose first priority, like that of the astronomer, was not her but his work. It turned philosophical as well, with Marilyn offering her view that the more huge and impersonal the universe, the more you've got to affirm yourself. "I created something," she said, "I'm proud of my son and my grandchildren… when a nova falls apart it creates something, that's the cycle of life."
At the end of the session, participants rated the story, giving it scores ranging from 6 to 10 out of 10. The 8.5 it averaged put it as sixth well-liked of the eight stories in the session. Isabel Allende's "Tosca" came in on top with a 9.4 from the group.
A new session began January 25th. Ofer spent her time between sessions reading up on stories from all over the world to make her selection for this upcoming session. She estimates that over the past 10 years she has read thousands of stories. Hers was the first short story discussion group of its kind at a NYC senior center. "I learn, and they learn from each other," she says of her students. "And they've had such diverse experiences, I never know when someone will have actually lived through an event we're reading about."
Ofer would love to have her discussion group replicated at other senior centers. She is willing to share her syllabi and what she has learned about teaching. She can be contacted through Sirovich Center.