August 2012
In This Issue:
Senior Center Residencies for New York Artists: A Success Story
Washington Heights/Inwood Communities to Help Seniors with Diabetes
Networking Bronx Senior Centers and Public Libraries
Silver anniversary for Intergenerational Work Study Program
CityBench Enhances City's Livability for Seniors
Seniors and the Web: Accessing Broadband Technology
Feature: Philanthropy for Needy Retired Mariners Seeks Applicants



SPARC: Seniors Partnering with Artists Citywide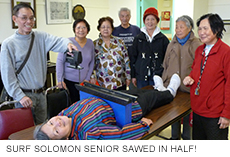 Abracadabra! Members of the Magic for Mature Adults class at Surf Solomon Senior Center watched carefully as magician Gary Dreifus made an ordinary dinner roll float up into the air with no visible means of support. By the end of the class, they were doing the trick themselves. When they graduated six months later, most had mastered advanced "professional" magic-feats such as escaping from ropes, sawing a person in half, and making balls appear, disappear, and transform.
Surf Solomon and Dreifus both credit the City's SPARC program with making the magic class possible. "I've seen such improvements in hand-eye coordination, in mental engagement like planning and critical thinking, and in confidence and socialization," Dreifus says. "But it takes resources to offer the program. And that's why when SPARC was announced, the Center and I both jumped at the opportunity."
SPARC (Seniors Partnering with Artists Citywide) established six-month artist residencies for 50 New York City artists at senior centers throughout the City. Funded by the National Endowment for the Arts, the initiative is a joint project of DCA, DFTA, and New York's borough arts councils.
Through SPARC, seniors and artists work in partnership on projects that tap into seniors' creativity. Projects range from dance, music, playwriting, and photography, to storytelling, origami, and making piņatas.
This summer, SPARC artists and senior centers are presenting free public events featuring their projects. To find an event, click on the NY Culture Calendar and search for SPARC events.
Washington Heights/Inwood Communities to Help Seniors with Diabetes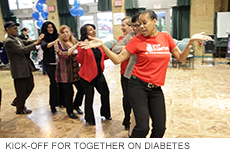 Launched on May 15th, "Together on Diabetes" is a new community health program in Washington Heights and Inwood that tackles diabetes among elderly residents. The project involves the community's social service providers and health care providers, as well as business and religious leaders, in a coordinated approach to helping diabetic seniors gain or maintain control of their disease to minimize the risks of serious complications. Washington Heights/Inwood was selected as the project's first community because more than a quarter of its seniors have diabetes.
The goal of the initiative is to reduce utilization of emergency room visits and inpatient admissions, as well as to improve the blood pressure and cholesterol values, of the 1,500 diabetic participants in the project.
With funding from the Bristol-Myers Squibb Foundation, the United Hospital Fund is partnering with NYC DOHMH and DFTA to test whether the approach taken will produce measurable results. Community partners include ARC/XVI Fort Washington, City Harvest, Isabella Geriatric Center, New York-Presbyterian Hospital, Riverstone Senior Live Services, Visiting Nurse Service of New York, Washington Heights and Inwood Council on Aging, and the YM&YWHA of Washington Heights/Inwood. The latter is one of Manhattan's four "Innovative Senior Centers," funded to provide cutting-edge health promotion, among other program enhancements.
Seniors can be referred to the program by anyone in the community-private care physicians, clinics, senior service agencies, religious leaders, self-referral, or relatives. All they need to do is call 1-855-585-5888 or "connect" on the program website.
After enrolling, seniors are connected to one or more community partner program sites near their homes. A Diabetes Support Team at the site conducts an assessment of self-care and needed supports, and develops an individualized plan for the senior that might include education, support group attendance, cooking classes, individualized coaching, and exercise classes. Working with the senior's health care provider, the team tracks the individual's participation in the plan.
Local businesses and organizations are encouraged to join the program on its website. They can help by heightening awareness of the project, making referrals and sharing their ideas.
Introducing Bronx Senior Centers to New York Public Libraries (NYPL)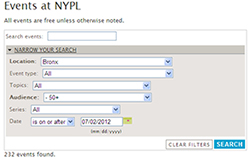 A networking event to encourage partnerships between Bronx aging services providers and library branch managers on Wednesday, May 30th, provided some compelling reasons why the two should work together to promote library usage by seniors.
Seniors would find a visit to the library is worthwhile partly for the Public Library's familiar services-borrowing books and films, reading newspapers and magazines, and maybe just sitting down for a while in a cool place in summer.
But the Public Library also offers:

Free classes for adults to learn English and improve reading and writing skills
Classes to learn how to use the computer, e-mail and Internet, and access to computers in every library every day
Films, classes, programs, and discussion groups
Yoga, exercise, and videogaming sessions
Workshops and courses in the arts
Free delivery of books, films, and other library materials for those temporarily or permanently homebound
E-NYPL materials that users can borrow from home and read/watch/listen to on a home computer, e-reader, or MP3 player such as an iPod
Activities for grandchildren (or great-grandchildren!)
Volunteer opportunities
Assistive technology, including screen enlargers and computer screen magnification software through the Andrew Heiskell Braille and Talking Books Library
NYPL President Anthony Marx and DFTA Commissioner Lilliam Barrios-Paoli greeted the branch managers and senior center directors attending the event at the new Bronx Public Library Center. DFTA's Deputy Commissioner Caryn Resnick described the City's age-friendly NYC initiative and explained that promoting greater use by seniors of public libraries was an age-friendly goal.
The event was attended not only by Bronx senior center staff but also staff of several Bronx Naturally Occurring Retirement Communities (NORCs). Representatives of the Queens Public Library attended with the hope of replicating the program in Queens.
Silver Anniversary for Intergenerational Work Study Program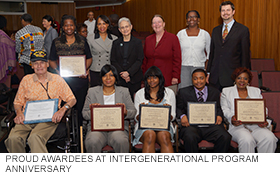 New York City's Intergenerational Work Study Program (IWSP), one of the nation's oldest public/private intergenerational initiatives, celebrated its silver anniversary at a recognition and awards ceremony, on May 31st. A partnership between the Department for the Aging (DFTA) and the Department of Education (DOE), IWSP began as a drop-out prevention program offering at-risk youth credits toward graduation for providing services at senior centers and nursing homes. The program has since expanded to target academically achieving and college-bound students as well, mentoring them about careers in health and social services.
Devante Seraphin, a student at De Witt Clinton High School, received the Student of the Year Award, having completed 300 hours of service over the last year. Devante also received a Greenidge Family Scholarship.
Other students recognized through scholarships were Juany Caba of Bronx Health Sciences High School who received the Michael Scarfia Scholarship; Krysten Barnes of Millennium Art Academy, who was presented with a Fort Greene Senior Citizens Council Scholarship; and Jonathan Bontemps of the Emma Lazarus High School for English Language Learners who received the Pat Caldwell "My Pueblo" Scholarship, established and presented by Antoinette Emers, Director of the Bronx River Senior Center.
A group of U.S. veterans of foreign wars, residents of the New York State Veterans Home at St. Albans, received the Senior Mentors of the Year award. This award recognizes the contribution of elders to the students' experience. The deep, rewarding relationships that develop between students and elders, and the influence of elders, as mentors are key to the program's impact.
Teacher of the Year Crystal Noel, and Worksite Supervisor of the Year Dennis Heald, received awards as representatives of all the teachers, guidance counselors, and worksite supervisors that make the program possible. Currently 13 high schools and 18 work sites participate in the program, many having been with the program for many years. Longevity awards were presented to six community partners: Cobble Hill Health Center, NYS Veteran's Home @ St. Albans, Senior League of Flatbush, Jewish Home Life Care System-Bronx Campus, Jewish Home Life Care System-Manhattan Campus, and CenterLight Health Systems.
The Department of Education's Work Based Learning Program also received a longevity award for supporting the Intergenerational Work Study Program for more than 20 years by providing IWSP students with stipends.
A historical video of 25 years of Intergenerational Work Study Program photographs was shown before the ceremony. It was developed by Cheuk Wai Ngou, a former IWSP staff member. Theresa Knox, DFTA's IWSP Program Director since 1996, organized the event and served as Mistress of Ceremonies.
CityBench Enhances City's Livability for Seniors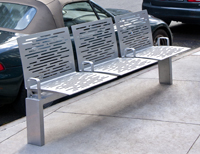 The Department of Transportation (DOT) is installing attractive and durable benches around the city to make streets more comfortable for bus riders and pedestrians. Aimed at increasing walking and utilization of public transportation, DOT's CityBench initiative is one of the City's age-friendly NYC improvements. Among the 1,000 benches to be installed at locations across the city, many will be in areas with high concentrations of senior citizens.
Anyone can request a bench. DOT encourages all New Yorkers to recommend locations for benches. For safety and engineering reasons, there are some basic requirements for the location of benches, including that they have to be on City-owned property. Priority bench locations include bus stops without shelters, sidewalks near subway stations, senior centers, hospitals and community health centers, shopping districts, public libraries, and other municipal facilities.
DOT will inspect all proposed locations to ensure there is sufficient room and clearance on the sidewalk to provide a clear path for pedestrians.
The three-year initiative responds to a survey of the needs of older New Yorkers conducted by the New York Academy of Medicine in 2008 to identify changes that would make the city more age-friendly. Nearly two-thirds of respondent said that benches for resting are very important to their well-being.
Seniors and the Web: Accessing Broadband Technology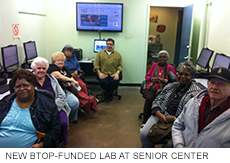 New York City will soon have the first technology-themed community center for older adults in the country. Slated to open in Manhattan next fall, the center will provide a comfortable and engaging space where older adults can use broadband technology to explore and learn new ways to thrive in today's digital world. Courses, seminars, workshops, exhibits, activities, and social and cultural events will be organized around key themes of technology, health/wellness, workforce development/financial literacy, and lifelong learning/exposure to the arts.
The development of this new Senior Planet Exploration Center is made possible through a Broadband Technical Opportunity Program (BTOP) grant to the City from the U.S. Department of Commerce. It is part of a larger initiative that includes the creation of nearly 100 public computer centers at libraries, parks, NYCHA locations, and senior centers.
Twenty-three of these public computer centers will be senior center-based, creating 275 workstations for older adults. Linked into a network, the public computer centers will operate on stable and secure platforms and receive updates, virus protection, and technical assistance from a network administrator.
Older Adults Technology Services (OATS), which has been offering courses for older adults at senior centers and other venues since 2004, is working with DFTA and DoITT on equipping (and in some cases creating from scratch) the 23 centers targeted to older adults. As part of the BTOP grant, OATS is also providing 150 free 20-session technology training courses at senior centers throughout the city. Topics range from computer basics to social networking and digital photography.
OATS will also be developing the final component of the BTOP grant aimed at encouraging Internet usage by seniors. OATS' current senior-focused website, seniorplanet.org, will be revamped and expanded to offer a wealth of informative and engaging content and resources, including a comprehensive calendar of events of interest to seniors. The revamped website will launch later in 2012.
Feature: Philanthropy for Needy Mariners...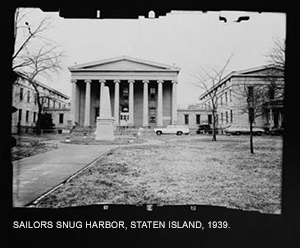 The Trustees of the Sailors' Snug Harbor in the City of New York, one of the country's oldest - perhaps the oldest - secular philanthropies, is conducting extensive outreach to former mariners who are now in their older years and may be in need of financial assistance. "We want to get the word out that we can assist a qualifying mariner with up to $10,000 a year to pay for necessities," said Rae Linefsky, Executive Director of the Trust.
The history of the Trust reflects 200 years of New York's and the country's social history. The Trust currently assists 45 to 50 older mariners a year in communities across the United States. Changes in the maritime industry and in society as a whole have made mariners such as these beneficiaries a dwindling breed. But in New York's thriving seafaring past, older ex-sailors living in poverty constituted a significant needy population. The Trust was established in the early 19th century to address their needs.
In 1804, Captain Robert Richard Randall of Manhattan wrote a will specifying that proceeds of his estate be used to build upon his farm in Greenwich Village "an asylum or Marine Hospital to maintain and to support aged, decrepit and worn-out sailors." Randall's farm covered most of the ten blocks now roughly bordered by Fourth and Fifth Avenues, Waverly Place, and Tenth Street.
After Randall's disappointed heirs contested the use of this land for a retirement home and hospital for sailors, the Trustees petitioned the legislature to be allowed to build the Sailors Snug Harbor somewhere else. They purchased a 230-acre farm on Staten Island for $10,000. In the summer of 1833, five Greek Revival-style dormitories on the Staten Island farm opened their door to 37 retired seamen.
By the beginning of the 20th century, there were 1,000 ex-mariners from every corner of the world living at Snug Harbor. The estate's 55 buildings included dormitories, residences for staff and the governor, a replica of St. Paul's Church in London, a hospital, and a music hall. It was the richest charitable institution in the United States and a self-sustaining community, including a six-acre cemetery.
With the introduction of Medicare and other social programs that focused resources on individual care rather than facilities, the population of the celebrated retirement home and hospital began to decline. Costs of maintaining the Staten Island site having become prohibitive, in 1976 the Trustees relocated the Snug Harbor to a new site in North Carolina.
The North Carolina site was sold to private developers in 2005 when the Trustees received court permission to provide financial support instead of facility-based support to aged and needy mariners wherever they live. Focus of the Trust had changed from residence-based care to individual care.
No longer a retirement home, the Staten Island Sailors Snug Harbor is now the Snug Harbor Cultural Center, a national landmark and fascinating remnant of New York's 19th century past. Home to art museums, botanical gardens, a music hall, and a children's museum. It also houses many of the archives of the Trustees and is custodian of its collection of paintings and artifacts.
The Trustees of the Sailors Snug Harbor remains committed to the wishes expressed more than 200 years ago by Captain Randall. Executive Director Linefsky urges anyone who knows of a retired mariner in need of assistance to visit the Trust's website to learn more about the requirements or to call the Mariner Counselor at 646-465-8585.