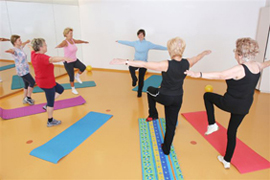 Falls Can Be Deadly
Falls are the leading cause of fatal and nonfatal injuries in older adults. Falls can result in fractures and head injuries, disability and loss of independence. Complications from falls can even lead to nursing home placement. Fortunately, falls are largely preventable. There are several steps you can take to reduce your risk of falling, beginning with awareness of the risks and how they might apply to you.
Some Risk Factors for Falls
Muscle weakness.
Previous falls.
Gait or balance impairment.
Use of medications.
Visual impairment.
Depression.
Dizziness.
Home safety hazards.
Arthritis, Diabetes, vestibular dysfunction, osteoporosis, Parkinson's disease, cardiovascular conditions, cognitive impairment.
Take Action to Prevent Falls
Join a senior center for free exercise and wellness programs.
Ask your health care provider to review all your medications.
Have your vision checked.
Make your home safer.