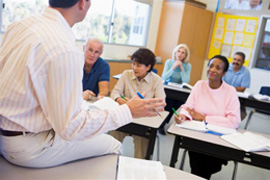 The Department for the Aging's Center for Organization Development and Training offers a broad range of courses for staff and volunteers of DFTA-funded organizations. Sessions focus on developing and strengthening the knowledge and skills community partners need to effectively serve New York's older population. Training is offered in these areas: leadership; case management/social work; program management; aging and mental health; DFTA's Client Database; computer skills; communication skills; workplace effectiveness; fundraising; supervision; benefit and entitlement programs.
Workplace Effectiveness Skills Training (in PDF)
Social Work Skills Training (in PDF)
Benefits and Entitlements Training (in PDF)
Click on the appropriate link below to print an application. In order to apply for a training, you must fill out the application and mail or fax it to DFTA's Training Center.