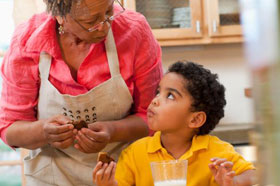 An estimated 100,000 older New Yorkers are grandparent caregivers, having stepped in to raise their grandchildren or other young relatives in the absence of the children's birth parents. If you're one of these grandparent caregivers, the Department for the Aging's Grandparent Resource Center (GRC) can help you with information, peer counseling, referral to community services and support groups specifically for seniors in your situation. The Center also offers empowerment training to enable you to better cope with the myriad challenges you face.
Read more about the Grandparent Resource Center (in PDF)
Grandparent Support Groups
Many grandparent caregivers find strength and support from their peers in a grandparent support group. The Grandparent Resource Center helps community organizations develop support groups for grandparent caregivers throughout the five boroughs. The GRC also sponsors events for support group facilitators to exchange ideas, participate in specialized training and plan joint group events.
Locate a grandparent support group in your borough
Bronx    Brooklyn    Manhattan    Queens    Staten Island (in PDF)
You can also call the GRC to request a copy of the Center's Support Group Guide and Resource Directory.
Training for Grandparent Caregivers
DFTA's Grandparent Resource Center has a 3-year partnership with Cornell University Cooperative Extension NYC to provide a free educational series for grandparent/relative caregivers. Parenting the Second Time Around is an evidence-based award winning 8-week workshop series that provides the understanding, skills and support relative caregivers need. It offers great incentives such as a free manual/workbook, stipend upon completion of the training, metrocards for public transportation, an orientation, a closing ceremony and certification from Cornell University Cooperative Extension upon completion. Fall 2012 training will occur in Brooklyn and Queens. Call 212-442-1094 for more information.
Grandparent Photo Gallery
The Department for the Aging's Grandparent Photo Gallery honors the estimated 100,000 grandparents across the city who are raising their grandchildren. Portraits capture the special bond between grandparent caregivers and their grandchildren.
Resources for Grandparent Caregivers
Free Breakfast and Lunch Programs. Your child may be eligible for free or lower price breakfasts and/or lunches at school. Ask someone in the office of your child's school what meal programs they offer and how to apply. You can also apply online at ACCESS NYC. Some schools, summer camps, churches and community groups serve free breakfasts and lunches to children during the summer.
Apply online at the start of the school year
Other Resources for Grandparent Caregivers
The Brooklyn Grandparents Coalition provides information about grandparent caregiver resources in Brooklyn.
The NYS Kinship Navigator allows caregivers to locate resources in the county where they live.
The Osborne Foundation offers programs for children of incarcerated parents.
Parks Department and Public Library Resources
New York City's Parks Department and public libraries throughout the five boroughs offer many resources and programs for children. For more information, visit the following:
Parks Department recreation centers
Parks Department after-school program
NY Public Library resources for children and parents
NY Public Library homework help
Brooklyn Public Library for children and parents
Brooklyn Public Library homework help
Queens Public Library resources for children and parents