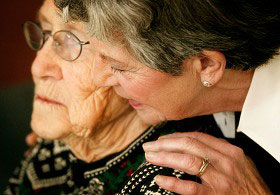 The Alzheimer's and Caregiver Resource Center of the New York City Department for the Aging is staffed with experts in dementia and long-term care issues. These professionals understand the challenges involved in caring for someone who has Alzheimer's or is frail or chronically ill. They can help you develop a plan of care to keep your loved one at home as long as possible and assist you in planning for future care. They can also link you to resources in your neighborhood that can make your job easier. As a caregiver, you owe it to yourself and the person you're caring for to begin using available services. The Resource Center is a good place to start!
All services provided by the Alzheimer's and Caregiver Resource Center are free and strictly confidential. They include:
Individual assessment.
Referrals to medical diagnostic centers, community-based services and support groups.
Referral to community services.
Education and training.
Entitlement counseling.
Assistance with the nursing home placement process.
Information on housing alternatives such as assisted living, enriched housing, etc.
To speak to someone in the DFTA Alzheimer's and Caregiver Resource Center, call 311.
Read more about DFTA's Resource Center and community care (in PDF)
Caregiver Programs
The Department for the Aging also funds caregiver programs in the community.
Locate a Caregiver Program in your borough
Understanding Alzheimer's Disease Tutorial
Developed by DFTA, "Understanding Alzheimer's Disease" is a four-part interactive tutorial caregivers can take on-line. The series is available in English, Spanish, Chinese, Russian, Korean and Bengali.
Understanding Alzheimer's Disease
English I English II English III English IV (in FLASH)
Entendiendo la Enfermedad de Alzheimer
Spanish I Spanish II Spanish IV (in FLASH)
瞭解老年痴呆症
Chinese I Chinese II Chinese III Chinese IV (in FLASH)
Что такое болезнь Альцхаймера
Russian I Russian II Russian III Russian IV (in FLASH)
알츠하이머병에 대한 이해
Korean I Korean II Korean III Korean IV (in FLASH)
আলজ্হাইমার েরাগ সম্পরেক ধারণা
Bengali I Bengali II Bengali III Bengali IV (in FLASH)
Safe Return Program
Safe Return is a 24-hour nationwide emergency response service for individuals with Alzheimer's or a related dementia who wander or have a medical emergency.
Other Resources
Meet Me at MOMA is the Museum of Modern Art's monthly program for individuals with dementia and their family members or care partners. This interactive program led by specially trained Museum educators is free, but preregistration is required. Call 212-408-6347.
Alzheimer's Disease and Related Disorders, New York City, Inc. is an invaluable resource for caregivers and persons affected by Alzheimer's disease. Helpline 646-744-2900
The Fisher Center for Alzheimer's Research Foundation provides comprehensive information about Alzheimer's disease, treatment and care.