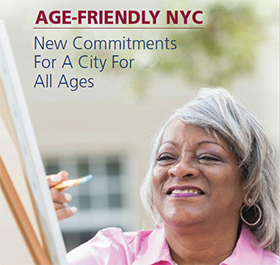 Age Friendly NYC is New York City's plan to sustain and enhance its age-friendliness for its growing population of seniors. The plan grew out of extensive dialogue with older New Yorkers, as well as leaders from the academic, private and non-profit sectors about what older people need and want from an age-friendly city. It was released in 2009 by Mayor Michael Bloomberg, City Council Speaker Christine Quinn and New York Academy of Medicine President Jo Ivey Boufford, M.D.
A blueprint for enhancing our City's livability for older New Yorkers, Age Friendly NYC outlines 59 specific initiatives focused on four areas: community and civic participation, housing, public spaces and transportation, and health and social services.
In June 2010, New York City became the first member of the World Health Organization's Global Network of Age-Friendly Cities. The Network aims to help cities create urban environments that allow older people to remain active and healthy participants in society. The Head of the World Health Organization presented Mayor Bloomberg with a Certificate of New York's membership in the Global Network on June 29, 2010.
In October 2013, the City and the New York Academy of Medicine issued its most recent Progress Report on Age-Friendly Initiatives. An earlier Progress Report was released in June 2010.