History of Kensico Dam
Before the current Kensico Dam was constructed, there was a smaller Dam that was built in 1885 out of layers of earth and gravel. The original dam impounded water flowing from the Bronx and Byram Rivers, creating a reservoir that could supply about 18 million gallons of water a day. In 1905, an increased demand for clean water prompted the New York State Legislature to authorize New York City to expand its water supply into the Catskill Mountains, over 100 miles away. In 1911, construction began on a larger Kensico Reservoir to capture water from the Catskill water supply system, which is brought here by aqueduct.
The existing dam was completed in 1917. It stands 307 feet above the lowest point of the foundation and is 1,843 feet long. Granite, the rock used for the concrete and decorative stones on the surface of the dam, was excavated from a quarry at nearby Cranberry Lake Preserve and brought to the site by rail. Construction of the dam also required an electric plant, sand pit, and stone crushing plant, as well as new housing and schools for workers and their families. More than 1,500 people, most of them Italian, worked on this project. Many of the construction families settled in the area after completion of the dam, contributing to the growth and character of Valhalla and surrounding communities.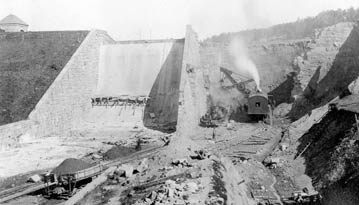 Original earth dam and spillway being cut away by steam shovel in 1911.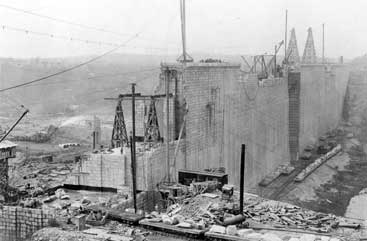 Kensico Dam under construction in 1914. Looking Southwest at side of dam now under water. Granite used for the dam came from a local quarry via rail.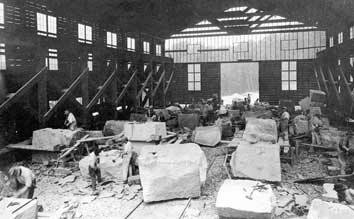 Stone masons at work in the cutting shed on May 26, 1914. The shed was located at the quarry in what is now Cranberry Lake Preserve.