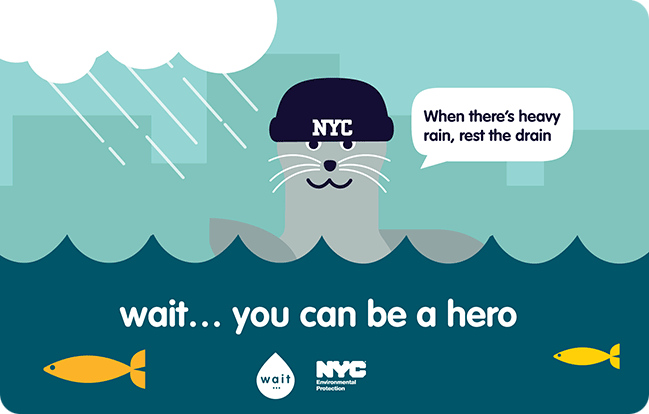 Wait…
Wait… is a voluntary text messaging program that notifies participants when to use less water during a heavy rainstorm to help protect our waterways. The sign up period has ended, but you can still contribute! When it rains, all you have to do is Wait…
Why Wait…?
Whenever we do laundry, shower, wash dishes, or flush the toilet, the water we use goes down the drain and into the sewer. But when there's a heavy rain storm, that wastewater has to share the sewer with LOTS of rain water. On those days, our sewers can fill to capacity and a mix of wastewater and rain water can end up going into our waterways. Waiting to use water during a heavy rain storm helps to keep our waterways clean for our community and wildlife!
How it Works
When there's a heavy rain storm, we'll send you a free* text so you know when to Wait… and we'll send another text when it's all clear. It's completely voluntary and you will only recieve alerts when we get those big New York City downpours. You can opt out any time.**
Ways to Wait…
When you receive a text to Wait…, you can help protect our waterways by:
💧 doing laundry later
💧 taking a shorter shower
💧 delaying dishwashing
and if you're really brave…
💧 waiting to flush the toilet
*DEP will not charge you for any text messages. Standard data fees and text messaging rates may apply based on your plan with your mobile phone carrier.
**You may opt out at any time by texting wait-nycdep stop to any program text message or change your contact information by emailing wait@dep.nyc.gov.
Additional Materials