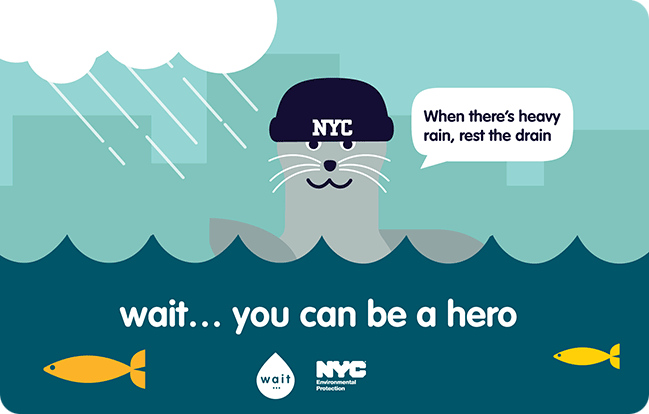 Wait… Pilot Program
Thank you for your interest in the Wait… Pilot Program! The registration period has ended. Wait… might come to your neighborhood next, so check back for program updates and future opportunities! If you have questions, comments, or would like more information, email us at wait@dep.nyc.gov.
The story. We all need to use water every day. But when there's a heavy storm and heavy household water usage, our sewers can reach capacity. When this happens, a mix of stormwater and wastewater can end up in our waterways.
An easy way to be a hero. All you need to do is wait to use water until after the heavy storm. So if you want to be a hero, ride out the storm and: do laundry later, take a shorter shower, delay dishwashing and if you're really brave… wait to flush the toilet.
During the pilot, we'll send registered participants a message when there's heavy rain so they know when to wait… And we'll send them another message when it's all clear. Check out our brochure for more details on how the program works!