Blue Roof and Green Roof
Type of green infrastructure: Blue roof and green roof study
Location: PS 118, Queens
Sewer Drainage Area Type: Separate Sewer
Combined Sewer Drainage Area: N/A
Installing source controls on existing rooftops is an important strategy that DEP is pursuing to reduce stormwater runoff from entering the sewers because rooftops comprise almost a third of NewYork City's total impervious surface area. On PS 118 in Queens, two alternatives to conventional rooftop surfaces are being tested by DEP in partnership with the Department of Education: green roofs and blue roofs. Data from the study at PS 118 will be collected to compare the stormwater management performance of green, blue, and control roofs during a three-year monitoring period. Because all three surfaces will be on the same building, this pilot will compare costs and benefits under similar environmental conditions.
Blue Roofs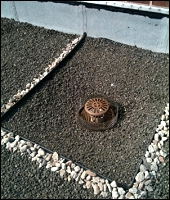 Blue roofs are non-vegetated source controls that detain stormwater. Weirs at the roof drain inlets and along the roof can create temporary ponding and gradual release of stormwater. Blue roofs are less costly than green roofs. Coupled with light colored roofing material they can provide sustainability benefits through rooftop cooling.
Green Roofs
Green roofs consist of a vegetative layer that grows in a specially-designed soil, which sits on topof a drainage layer. Green roofs are more costly than conventional roofs but they are capable of absorbing and retaining large amounts of stormwater. In addition, green roofs provide sustainability benefits such as absorbing air and noise pollution, rooftop cooling by reducing UV radiationabsorption, creating living environments for birds, and increasing the quality-of-life for residents. The City provides a Green Roof Tax Abatement from City property taxes of $4.50 per square foot ofgreen roof, up to $100,000.
The PS 118 pilot project will compare costs and benefits of these stormwater management approaches under similar environmental conditions.
Green Infrastructure Pilot Projects
Related Documents and Links