Enhanced Tree Pit at Autumn Avenue
Type of green infrastructure: Enhanced tree pit
Location: Autumn and Stanley Avenues, East New York,  Brooklyn
Sewer Drainage Area Type: Combined Sewer
Combined Sewed Drainage Area: Jamaica Bay
Runoff from the street is diverted by curb cut and routed into this enhanced tree pit, where specially engineered soils and native plant species are used to absorb water and filter associated pollutants. In some enhanced tree pits, storage chambers hold additional runoff, available for plant uptake or groundwater recharge.
Did you know?
One inch of rain falling on the street and sidewalk of a typical City block can produce 6,500 gallons of stormwater runoff.

This enhanced tree pit can treat one inch of stormwater runoff from a 1,530 square foot area of the street and sidewalk amounting to 954 gallons.

The plants and trees within this stormwater facility provide greenspace and microhabitat for wildlife.

Streets and sidewalks make up a third of the city's impervious area.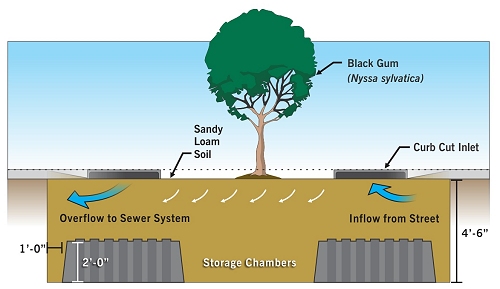 The enhanced tree pits were constructed with additional subsurface storage technologies; as a result, stormwater would be stored for an extended period of time to allow for infiltration and provide a reservoir of water for the trees.
Green Infrastructure Pilot Projects
Related Documents and Links