Recreational Boating Program
A young boater takes to the reservoir.
Introduction
DEPs recreational boating program, now in its fifth year, has attracted thousands of boaters to paddle or sail on the Cannonsville, Pepacton, Neversink and Schoharie reservoirs. This year will also mark the opening of a new boat launch site at Miller Hollow, along Pepacton Reservoir, which is expected to improve access for visitors coming from Downsville, Roscoe and other points to the south and west of the reservoir. That boat launch is expected to open in early June.
Boaters must have a DEP Access Permit that is available free of charge on DEP's website by visiting nyc.gov/dep/accesspermit. All boats used on the reservoirs must also be steam cleaned by one of the 13 DEP-certified steam cleaning vendors conveniently located across the watershed. A list of those vendors is available from the brochures for each reservoir below. Additional information about the recreational boating program can also be found at VisitTheCatskills.com/paddling. Steam cleaning helps protect against invasive plants, animals, and microorganisms that can harm water quality and fisheries. If a recreational boat is taken off reservoir property, it must be steam cleaned again before it can reenter the reservoir. Throughout the course of the recreational boating program, DEP has continuously tested water quality to ensure that none of the recreational activities has an adverse effect on New York City's drinking water supply.
The recreational boating program led to 1,463 visits in 2015, and all-time record and the largest year-over-year increase in participation since it began in 2012. That increase was largely driven by the success of the rental program, which allows visitors to rent pre-cleaned and registered kayaks and canoes from 10 launch sites along the reservoirs. The rental program, administered by the Catskill Watershed Corporation (CWC), attracted 683 boaters in 2015, nearly double the visits from the previous year. Rental boats are stored on 30 racks alongside the reservoirs to promote easier access for visitors to the region and those who don't own a boat. CWC funded the storage racks, along with annual brochures to market the program and sanitary facilities at the launch sites.
Program Brochures
Four brochures have been developed to provide additional information. They include a map of the reservoir area, program details, launch site information and steam cleaning and rental vendor contact information. You may wish to print a brochure from the links below for convenience. Brochures are also available at the steam cleaning vendor locations, reservoir launch sites, kiosks and various other outlets.
2016 Season Hours and Dates
Recreational boating will be allowed from sunrise to sunset commencing Friday, May 27th (Memorial Day Weekend) to sunset on Columbus Day.
Allowed Vessels
Non-motorized kayaks, canoes, rowboats, sculls and sailboats may be used. Sailboats must have removable center/dagger boards. All boats except kayaks must be at least eleven feet five inches (11′5″) in length. Kayaks must be at least nine feet (9′) in length.
Recreational Boats and Trolling Motors
Trolling motors are not permitted for use on kayaks, canoes, sculls and sailboats at this time. Trolling motors can be used by permit for fishing rowboats on the Cannonsville reservoir under a pilot program. For more information on this new program go to:
Personal Flotation Device (PFD)
It is a requirement to have a wearable Personal Flotation Device (PFD) for each person on the boat. Children under the age of 12 must wear them. For your own safety we highly encourage you to wear your US Coast Guard approved PFD. Floating seat cushions do not satisfy the "wearable PFD" requirement.
DEP Access Permits and Recreational Boat Tags
Participating individuals 16 years and older will be required to obtain a free DEP Access Permit. You will be asked to show your DEP Access Permit when you have your boat steam cleaned at one of the DEP approved steam cleaning vendors listed on this page below. If you don't have an Access Permit, you can apply using the link provided below or at a participating steam cleaning vendor. It may be easier for you to obtain your DEP Access Permit before you visit the steam cleaning vendor.
A DEP Recreational Boat Tag application must be completed and submitted to the steam cleaning vendor at the time of your visit. Only then will you be eligible to have your vessel steam cleaned. A printable version of the Recreational Boat Tag application is provided below. All vessels, including oars, paddles and sails, must be steam cleaned before they are placed on the reservoir. This can be done at a variety of DEP-approved private vendors. A list of DEP-approved vendors is below:
After the boat is steam cleaned, you have the option of a Temporary or Seasonal Recreational Boat Tag. A Temporary Recreational Boating Tag will be valid for one to seven days from issuance, while the Seasonal Recreational Boating Tag will be valid from the day of issuance until sunset on Columbus Day, which is the end of the Recreational Boating season. This tag must remain on your boat while on the reservoir. Examples of the 2016 boat tags are below. Please remember that if the boat leaves the reservoir property it must be steam cleaned again before returning.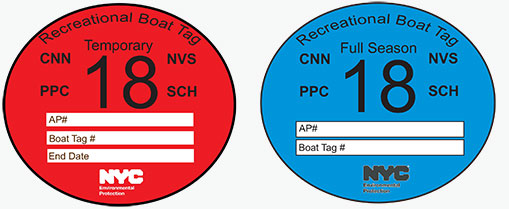 Launch Sites and Use Areas
Launch sites were coordinated with the NYSDEC to prevent conflict with nesting eagles and were coordinated with the NYSDOT for public safety. Signs have been installed along the road to help identify launch areas.
Recreational Boating Rules
Recreational boating rules are covered in the Rules for the Recreational Use of Water Supply Lands and Waters. A link is posted below:
Don't have a kayak or canoe?
There are several vendors who will rent one to you! Most of the vendors have designated storage racks at reservoir launch areas so simply find a vendor from the brochures that serves the reservoir you want to use and call or stop by. They will charge a fee for the rental.