FOR IMMEDIATE RELEASE
11-08
February 3, 2011
CONTACT:
Farrell Sklerov / Michael Saucier (718) 595-6600
Statement of NYC Environmental Protection Commissioner Cas Holloway On Results of Water Quality Testing in the Lower Esopus Creek Following the Release of Clear Water From Ashokan Reservoir
"Earlier this week we completed clear water releases from the east basin of the Ashokan Reservoir into the lower Esopus Creek in order to help flush out turbidity. To ensure that water quality returned to normal levels, we performed follow-up sampling from three locations: the release channel and two spots along the lower Esopus, Marbletown Recreation Park and Saugerties Beach. The water quality parameters measured included turbidity, suspended solids, pH and conductivity. We compared the results with samples taken on January 19 and 24, during the release of turbid water, as well as with samples taken on January 31 and February 1, while the clear water releases were winding down.
The results are extremely encouraging. As anyone who has passed by the creek can tell, it is now running clear, indicating that turbidity has fallen to levels you would expect to find in any open waterway. Overall, turbidity and suspended solids dropped dramatically, from a range of 33 – 50 nephelolometric turbidity units (NTU) to a range of 5 – 11 NTU and a range of 11 – 16 milligrams per liter (mg/L) of suspended solids to 2 – 7 mg/L. The other parameters, pH and conductivity, were well within normal ranges before and after the recent clear water release and showed no significant changes. These results demonstrate that the release of 1.5 billion gallons of clear water had the desired effect of flushing out the remaining turbidity, an outcome that will immediately benefit the entire lower Esopus ecosystem and the residents of nearby communities. As we have previously committed, DEP will make additional clear water releases for the first time ever, starting this spring.
We remain committed to assessing the long- and short-term impacts of turbid releases as we have previously agreed to do. And we will work with all stakeholders as part of a group that will help determine a strategy for release channel releases in the future. For the long term, a number of capital projects are already underway that will reduce our reliance on the Ashokan release channel for turbidity reduction purposes, including the Catskill-Delaware interconnect and the Croton Water Filtration Plant."
DEP manages the city's water supply, providing more than 1 billion gallons of water each day to more than 9 million residents, including 8 million in New York City, and residents of Ulster, Orange, Putnam and Westchester counties. Approximately 1,000 DEP employees live and work in the watershed communities. For more information, visit www.nyc.gov/dep or follow us on Facebook at www.facebook.com/nycwater.
Results of the sampling:
Lower Esopus Turbidity Results (NTU)

 

 

 

 

Date

Site

1/19/11

1/24/11

1/31/11

2/1/11

Release Channel

50

50

5.6

4.8

Marbletown Recreation

45

45

5.5

9.4

Saugerties Beach

40

33

11

6.5

 

 

 

 

 

Lower Esopus Suspended Solids (mg/L)

 

 

 

Date

Site

1/19/11

1/24/11

1/31/11

2/1/11

Release Channel

14.0

11.0

2.0

1.8

Marbletown Recreation

15.0

16.3

3.1

6.9

Saugerties Beach

11.8

13.6

4.8

6.4
Lower Esopus Lab Conductivity Results (µmhos/cm)

 

Date

Site

1/19/11

1/24/11

1/31/11

2/1/11

Release Channel

46

47

52

53

Marbletown Recreation

50

50

57

60

Saugerties Beach

83

108

88

104

 

 

 

 

 

Lower Esopus pH Results (units)

 

 

 

Date

Site

1/19/11

1/24/11

1/31/11

2/1/11

Release Channel

6.79

8.01

6.65

7.26

Marbletown Recreation

6.83

7.99

7.01

6.85

Saugerties Beach

7.13

7.36

6.87

7.00
View of Ashokan Release Channel - February 2011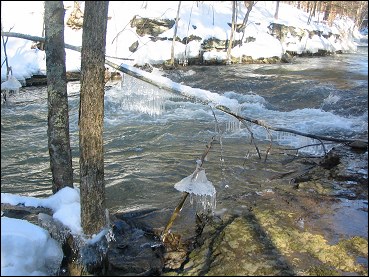 View of Marbletown Recreational Park - February 2011