Visit "Growing and Greening New York"
"It is 7 a.m. in the city and millions of New Yorkers are getting ready for the day." The source of New York City's drinking water, how we handle wastewater and the importance of water conservation are just a few of the water themes documented in the first hour of the Museum of the City of New York's new exhibition, Growing and Greening New York: PlaNYC and the Future of the City.
Organized in terms of a typical day in the life of a New Yorker, the exhibition explores six essential areas addressed by Mayor Bloomberg's ambitious plan for sustainability by 2030: water; transportation; energy; open space; land; and climate change. On view through April 22nd, Growing and Greening takes the visitor through the course of a day, from 7:00 a.m. through 2:00 a.m., and links routine activities, such as flushing the toilet, making breakfast and brushing your teeth, with information documenting their impact on the city's environment. Alternatives for making these actions less harmful are offered and innovations are featured that will lead to a more sustainable New York.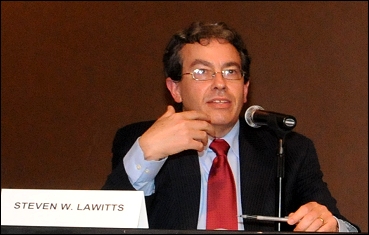 Acting Commissioner Steven Lawitts addresses audience.
To celebrate the opening of the exhibition, DEP Acting Commissioner Steven W. Lawitts, moderated a panel discussion, New York Infrastructure: From Faucet to Flush – The Future of New York's Water System. Panelists Paul Mankiewicz from the GAIA Institute, Alex Matthiessen from RiverKeeper and Christine Holowacz from the Newtown Creek Monitoring Committee led a lively discussion that touched on issues related to protecting the New York City watersheds, delivering water to more than nine million people, treating wastewater for safe release into the surrounding waterways, and recognizing what DEP, community organizations, environmental groups and individuals can do to ensure a greener and cleaner New York.