---
Stories from DEP is a collection of feature articles
published in DEP's internal newsletter, Weekly Pipeline.
This article was originally published May 29, 2012.
---
Queens Adds Notch to 'Blue-Belt'
DEP's award-winning Bluebelts are expanding in Queens. Based on the term "greenbelt," used to describe a large area of parkland in Staten Island, DEP's "Bluebelts" provide ecologically sound and cost-effective stormwater management. Through preservation of natural drainage corridors, such as streams, ponds, lakes, and other wetlands, the installation of stormwater management landscaping treatments, and construction of man-made wetlands, Bluebelts not only help prevent flooding, they also clean and filter stormwater. Bluebelts also provide important community open spaces and diverse wildlife habitats.


In 2011, DEP and the NYC Parks Department completed the restoration of Oakland Lake Park in Bayside—the first Bluebelt improvement project in Queens and part of Mayor Bloomberg's Green Infrastructure Plan. Oakland Lake is a 15,000 year old spring-fed, glacial pond in Alley Pond Park. The lake's 13 acres of open water are home to a variety of fish species, including bluegill carp, perch, and bass. For many years, uncontrolled storm flows had eroded the lake's slopes, sending sediment into the lake and degrading water quality. DEP's Bluebelt team developed plans to repair damage from uncontrolled stormwater flows and ensure that water entered the park in a sustainable way.
At locations where street run-off flowed into the park, the Bluebelt team, led by Dana Gumb and Dean Cavallaro, constructed swales and other drainage features to manage the water flow. At one location, a rain garden  (a depression in the landscape designed to increase the rate at which water is absorbed by the soil) was installed. In addition, DEP stabilized highly eroded slopes, filled gullies and planted vegetation in previously barren areas. The Bluebelt construction in the park was preceded by the installation of storm sewers in the surrounding streets.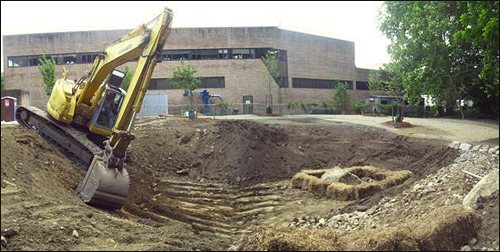 The latest Bluebelt project aims to address frequent flooding in Springfield Gardens and improve water quality in the lake in Springfield Park, which has filled with sediment over time and is degraded by frequent algae blooms in warm weather. The project includes storm sewer installation and street reconstruction, and a number of significant Bluebelt components. Among them are: three large constructed wetlands, each situated at storm sewer outfalls and 2,000 square feet of porous concrete in the Springfield Boulevard median, undergirded with structural soil to encourage the growth of new trees planted in the median. Construction on the new Springfield Gardens Bluebelt is expected to begin this Fall.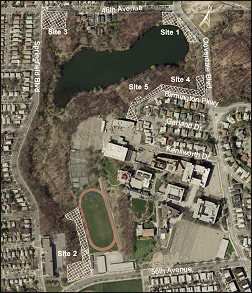 Construction of DEP's Bluebelt program began in Staten Island in 1997. DEP saw an opportunity to design a network of traditional storm sewers coupled with constructed wetlands and natural drainage corridors. As part of PlaNYC and the Green Infrastructure Plan, the city has expanded the Bluebelt program to other boroughs where features such as natural or man-made wetlands can be effective in managing stormwater runoff.