---
Stories from DEP is a collection of feature articles
published in DEP's internal newsletter, Weekly Pipeline.
This article was originally published April 24, 2012.
---
Reel Good News for A-fish-ionados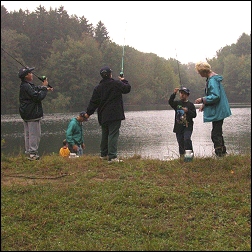 As the temperatures warm up, fishing and boating aficionados get ready to start visiting the New York City reservoirs, streams and lakes to begin the recreational season. Every year, the New York City water supply is host to some of the best fishing in the country. As DEP expands the recreational boating program, recreational opportunities continue to grow for New Yorkers to enjoy the scenic New York City watershed. More than 100,000 acres of recreational land, DEP's upstate reservoirs, and roughly 191 miles of stream frontage on city land are available to thousands of visitors who come every year to enjoy their favorite pastime.
City-owned reservoirs offer excellent fishing opportunities both from the shoreline and by boat. Anglers have the opportunity to fish for warm-water species such as smallmouth and largemouth bass, as well as cold-water species such as trout. The diverse species for many reservoirs could produce 4-5 pound bass and lake trout exceeding 15 pounds. In addition to its reservoirs, DEP also offers city-owned watershed lands that border trout fishing streams such as the Batavia Kill, West Branch Delaware River, Esopus Creek, and many smaller tributaries.
NYC allows rowboats to be stored and used on the reservoirs, no motors are allowed however. Although anglers do not have to pay to get access, a free DEP Access Permit is required to fish in NYC reservoirs. Anglers must also have a valid New York State fishing license when fishing on the approximately 33,500 acres of reservoirs. Boats must have a DEP Boat Tag to be put in the reservoirs. DEP requires all boats to be steam cleaned before they are placed in the water, which is also a free service DEP provides. The DEP Boat Tag is a sticker that must be displayed on all boats used on the reservoirs and includes the boat number, reservoir, owner's Access Permit number and the expiration date. Prior to the expiration date of the boat tags, DEP notifies the owner and asks that they renew their boat tag or remove the boat. If the boat tag remains expired, DEP removes the boat at the owner's expense.
As part of the recreational opportunities in the reservoirs, DEP announced the expansion of the recreational boating program after a successful pilot program on the Cannonsville Reservoir. The expansion of the recreational boating program will include the Neversink, Pepacton and Schoharie reservoirs, which begins the Friday before Memorial Day weekend. Anglers can look forward to what is hoped will be a banner year of fishing in the watershed.
The expanded boating program, which the Catskill Watershed Corporation is helping to fund, will allow temporary and seasonal DEP recreational boating tags to be issued by DEP-approved certified private steam cleaning vendors for rowboats, canoes, kayaks, sculls and small sailboats. The opening of the new program will kick off this year on May 25. For DEP, making the Cannonsville recreational boating program permanent and opening up Neversink, Pepacton and Schoharie reservoirs for recreational boating is an evolution of its efforts to open lands to local communities and visitors. Being a good neighbor is critical to DEP's watershed partnerships and agency staff are mindful of this every single day. The results of this collaborative approach will potentially help boost tourism and economic activity across Delaware, Sullivan, Greene and Schoharie counties. All of this can be done without putting the water supply of nine million New Yorkers at risk. DEP will continue to look for ways to make the watershed available for recreational activities to nearby residents and visitors to take advantage of the recreational opportunities in the NYC reservoirs.
DEP also expects to open an additional 7,500 acres of watershed land in 2012 for recreation, including areas in Schoharie, Sullivan, Ulster, Greene and Delaware counties.