---
Stories from DEP is a collection of feature articles
published in DEP's internal newsletter, Weekly Pipeline.
This article was originally published March 27, 2012.
---
Good Forestry Is at 'Root' of Clean Water
New York City owns approximately 120,000 acres of land throughout its 2,000-square mile watershed. Of this total, 65,000 acres were acquired for watershed protection as part of several Filtration Avoidance Determinations (FAD). Approximately 95,000 acres of this land are forested.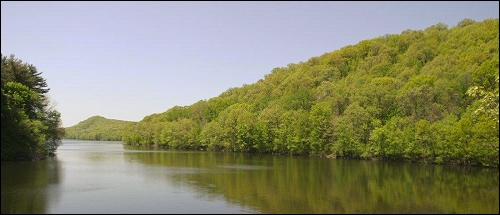 Forest cover in a watershed is beneficial because forests enhance natural filtration of precipitation by intercepting rainfall and increasing its infiltration into the ground. This reduces the potential for erosion and allows nutrients — such as nitrogen and phosphorous — that could otherwise pollute surface waters, to be absorbed by plants. Forests are more effective natural filters than other types of cover such as developed or open land. These benefits are maximized when forests are managed to promote vigorous tree growth and diversity in composition. Responsible management of forests requires knowledge and careful planning. DEP's forestry unit's responsibilities include providing forestry project reviews for conservation easements, and providing project review and technical forestry support and advice for the bureau of water supply.
In partnership with the USDA Forest Service, DEP recently developed its first-ever Forest Management Plan to guide activities on city-owned watershed forest land. The plan assesses current conditions while also promoting diverse and vigorous growth to enhance water quality protection. It also incorporates a process for planning and implementing management actions, and standards for the protection of natural and human resources developed by DEP. The plan was finalized and delivered to the New York State Department of Health as a FAD deliverable in November 2011.
"The FMP now provides baseline data and recommendations for us to work towards the forest's desired condition, one which is optimal for long-term water quality protection," said Natural Resources Section Chief Paul Lenz. The plan was developed by the forestry unit under the direction of Fred Gliesing, with the assistance of foresters Amanda Locke, Seth LaPierre, Todd Baldwin and Nathan Hart. Many other staff within the Watershed Protection Programs also provided support.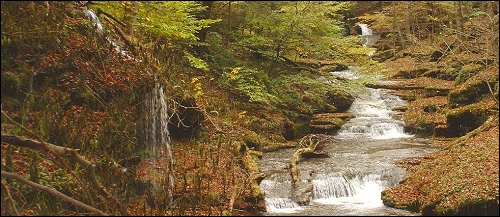 In developing the plan, an inventory of all city-owned watershed forest land was conducted. Data was gathered about the types, numbers, sizes, ages and condition of the trees in the forest, and also about the impact of other factors, such as invasive species and deer, on the forest as a whole. Forest Service staff visited more than 9,100 sampling plots in the forest acreage. Analysis of the inventory showed that more than 60% of the forest is older and almost half is denser than is ideal for water quality protection. Approximately 42,000 acres — 45% of the city's watershed forest — were identified as targets of action within the next decade. The goal of the plan is to perform forest improvement projects on approximately 1,000 acres per year to promote rapid tree growth.
To effectively implement the plan, DEP developed a strategy that incorporates staff and financial resource considerations, as well as agency and program priorities. It also takes into account on-the-ground realities (access, local ordinances, deer impacts, etc.). The strategy provides a two-year planning window and will be updated every two years to address changing conditions and priorities. Most actions will be conducted through competitively-bid timber sales designed and overseen by DEP foresters and supervisors that will improve forest conditions and also generate revenue. Through this plan, DEP can also support local economies by utilizing local labor and selling wood products, while acting on the recommendations in the Plan to improve the condition of the city's watershed forests.