---
Stories from DEP is a collection of feature articles
published in DEP's internal newsletter, Weekly Pipeline.
This article was originally published March 13, 2012.
---
Building a Better Water Supply System Is No Pipe Dream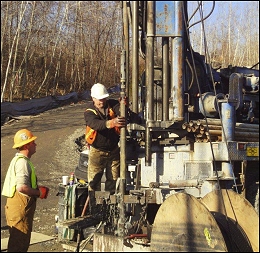 While the phrase Water for the Future may evoke science fiction, it actually describes a DEP project that will secure the reliability of New York City's drinking water supply through repairing some of its most critical infrastructure, while also seeking innovative methods of preventing service interruptions from occurring as an unintended — and unacceptable — side effect. Maintaining the infrastructure responsible for serving more than nine million residents is not easy, and the project represents years of research, planning, and outreach before the commencement of operations.
Responsible for carrying roughly half the city's drinking water to more than eight million people, the Delaware Aqueduct transmits approximately 500 million gallons per day. The city identified two leaks in the Rondout-West Branch Tunnel section of the aqueduct, one under the Town of Wawarsing in Ulster County and another under the Town of Newburgh in Orange County. To repair these leaks, a new 3-mile tunnel will be built under the Town of Newburgh to bypass the leaking portion while repairs are conducted under Wawarsing from within. To connect this bypass tunnel after its construction, the Rondout to West Branch portion of the Delaware Aqueduct will need to be taken offline from the water supply for an extended period of time.
"Obviously, we're dealing with an extremely critical component of the water supply infrastructure," said Project Director Sean McAndrew. "Millions of New Yorkers rely on the Delaware Aqueduct, and removing that piece for any period of time is an extremely complex process."
That process involves securing the approval of DEP partners in local towns, while also communicating with state and federal regulators, and taking geological borings to help plan the tunnel construction.
However, as befits a program with a name awash in promise, Water for the Future involves more than simply fixing a leaky aqueduct. Several conservation measures are underway that will help DEP avoid service impacts during the shutdown and connection phases, most notably the effort to more effectively and accurately track water consumption through installation or replacement of meters for high-volume consumers. The conservation effort will partner DEP with both public and private consumers to explore and implement fixture replacements and water re-use options. DEP is also investigating the reactivation of the former Jamaica Water Supply infrastructure in southeast Queens, a series of groundwater wells that can potentially serve as a supplemental source.
Another project involves work in the Catskill Aqueduct to increase its capacity by 10%. The exploration of supplementary supply during shutdown is even expanding beyond New York's borders, as conversations are underway with neighboring New Jersey. The Garden State partnership would potentially connect Staten Island with purveyors such as Middlesex Water Company and New Jersey American Water, as well as supplies from the North Jersey District Water Supply Commission. An interconnection with the Western Nassau Groundwater System is also being pursued. Discussions are also underway with DEP's upstate customers to create ways to take them off the system to allow more water to reach the city during the shutdown.
In other words, Water for the Future seeks to repair infrastructure from yesterday while securing today's well-being and building a sustainable tomorrow. The program is a multi-faceted effort requiring the many talents of DEP staff across various bureaus and specializations. With the program now fully underway, one thing has become eminently clear: Water for the Future is no pipe dream.