---
Stories from DEP is a collection of feature articles
published in DEP's internal newsletter, Weekly Pipeline.
This article was originally published March 6, 2012.
---
Air We Go! BEC Lab Keeps Tab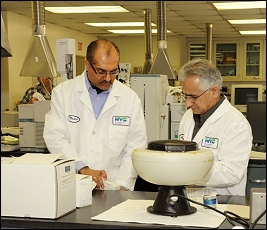 New Yorkers burn more than one billion gallons of heating oil every year, which adds more soot pollution to the air than all the cars and trucks in the city combined. These and other pollutants contribute significantly to lung and heart conditions while exacerbating others like asthma. But things have been getting better. On Earth Day 2007, Mayor Bloomberg released PlaNYC, the city's sustainability blueprint that included the ambitious goal to "achieve the cleanest air quality of any big U.S. city" by the year 2030. Since PlaNYC was issued, the city has made significant strides toward achieving that goal and dealing with air pollution.
Progress in addressing harmful air emissions from heat and hot water boilers and burners is underway. There are new local laws and rules to phase out the use of the "dirtier" polluting types of fuel oil – No. 6 and No. 4 fuel oils. The 10,000 residential and commercial buildings with furnaces that burn these grades of oil in New York City produce significantly higher levels of particulate matter, sulfur dioxide, nitrogen oxides, and carbon dioxide than other energy sources, such as No. 2 fuel oil or natural gas.
Starting July 1, new rules will require building owners using No. 6 fuel to switch to cleaner No. 4 fuel oil or an equivalent when renewing an expiring boiler certificate. There will no longer be a renewal of No. 6 oil allowed. Since there is a three-year permit renewal cycle, all buildings using No. 6 are expected to be in compliance by July 2015. Furthermore, by 2030 all buildings with boilers will be required to use No. 2, natural gas or fuel that is equivalent in emissions to No. 2.
In October there are two additional fuel oil advancements planned. The first is for No. 4 fuel and it will be a requirement that sulfur content in the fuel has to be lowered from 3,000 to 1,500 parts per million. Also, in the same month, as the result of the cooperative efforts of the administration and the City Council, all Nos. 2, 4, and 6 heating oils are required to contain at least 2% biodiesel by volume. Both of these fall under Local Law 43. New York State is bolstering the city's efforts as well and in July, all No. 2 heating oil sold for use in the state must not have a sulfur content greater than 15 parts per million. Penalties for non-compliance range between $350 - $6,000.
In anticipation of the new regulations, Manoj Oza from DEP's Bureau of Environmental Compliance's Air Lab recently assisted in the effort to expand its in-house capability to streamline the turnaround time of getting lab results. The lab tests are required to ensure that the heating oil being burned is consistent with the sulfur requirements in the law and is free of illegal additives. To ensure compliance with the new rules, DEP inspectors will be able to take even more field samples than they had previously, and have them analyzed more quickly. Instead of contracting the work to an outside lab, DEP has been certified to analyze the heating oil samples. Additionally, in September 2011 the lab acquired new equipment, an X-ray fluorescence spectrometer to be used in analyzing oil samples for sulfur content and other possible illegal substances. As Leonard Atteloney, the lab's director explains, "a spectrometer measures substances present in a sample. For example, if a higher than expected metal content is found it would indicate the presence of an illegal additive in the fuel oil such as automotive waste oil or another inferior oil."
For Gerry Kelpin, Director of the Air and Noise Enforcement and Policy Unit, "The set of improvements for the fuel oil used in New York City boilers is a significant milestone that we are undertaking to improve our air and the city's health." For New York City residents, the improvements mean we will be able to breathe easier about taking a breath of air!