---
Stories from DEP is a collection of feature articles
published in DEP's internal newsletter, Weekly Pipeline.
This article was originally published February 7, 2012.
---
Boring Has Never Been So Exciting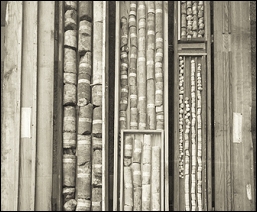 Borings from City Water Tunnel No. 1 (11/12/1909)
Boring — it helped make New York's water supply infrastructure an engineering marvel, which in turn ensured the Big Apple's prominence as a world city. When construction of the Catskill system began more than a century ago, shaft construction and tunneling relied on land surveying, precise engineering specifications, and — yes — geological boring samples.
A boring core is a cylindrical sample of earth strata obtained by drilling a vertical hole that shows soil and rock in areas where shaft and tunnel work will occur. A drill rig bores a small diameter hole to a pre-determined depth from which a set of tests is performed and data gathered from within the borehole. The information gathered provides a basic picture of the ground conditions to be encountered, which in turn, may dictate the design of the tunnel, the selection of equipment, and the approach.
Fast forward 100 years to DEP's Water for the Future (WFF) program and boring technology is still part of the engineer's toolkit. In the last few months, DEP has begun the first of several planned borings to obtain geophysical data for design and construction work for the upcoming repair of the aqueduct and construction of access shafts in the upstate towns of Newburgh and Wappinger. In addition to the bypass tunnel, the plan calls for repair of other areas of the tunnel near Wawarsing from within. As part of the plan, DEP will break ground on the shafts for the bypass tunnel in 2013, and begin the bypass connection to the Delaware Aqueduct in 2019. The operation for each boring is expected to take two months. The process has not changed dramatically throughout the last century as you can read in W. Courtland Thomas's 1938 article entitled Test Borings in Delaware Water Supply News , a newsletter published by the Board of Water Supply, a DEP predecessor agency.
A part of BEDC's Geotechnical Section, Masud Ahmed has extensive experience not only with core sample drilling, but also with the agency's core sample repository in the Bronx. From 1991 until 2008, Masud has been involved in core sample drilling for City Water Tunnel No. 3 in Brooklyn, Queens, and Manhattan. As Masud recalls, "In Manhattan we had 82 borings drilled in one stage and 28 borings in another, over a stretch of eight and a half miles with each separated by about 1,000 to 1,500 feet. The borings ranged in depth from 500 to 800 feet and the first segment generally involves topsoil and the remaining section is composed of bedrock." He underscores the value of drilling as part of the preliminary assessment of the ground condition in providing tunneling projects with a geologic profile that includes "rock composition, strength, stresses on the rock, and the extent of groundwater presence at each location."
Masud is also the keeper of DEP's extensive sample collection. The Jerome Avenue Pumping Station in the Bronx houses more than 5,600 wood boxes that contain samples from the Brooklyn, Queens, and Manhattan tunnels, including some that are nearly 50 years old. The wood boxes are generally five feet long by 10 inches wide and four inches deep. One test boring could account for 700 feet of core samples broken into sections by 20 feet of cores, each 3 inches in diameter that require about 35 boxes of storage. DEP retains them until the particular job is over to ensure that the eventual construction work goes smoothly and safely.