---
Stories from DEP is a collection of feature articles
published in DEP's internal newsletter, Weekly Pipeline.
This article was originally published January 31, 2012.
---
New Code Will Air on the Side of Public Health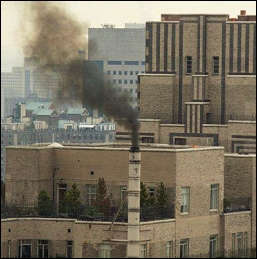 The last time the New York City Air Pollution Control Code (Air Code) was comprehensively updated, President Gerald Ford was in office; the Cincinnati Reds were World Series champions; "One Flew Over the Cuckoo's Nest" won the Academy Award for Best Picture. Yes, the Air Code has stood mostly unaltered since 1975, and quite a few things have changed since then. Through Mayor Bloomberg's groundbreaking PlaNYC initiative, the city has committed to giving New Yorkers the cleanest air of any large American city. Once completed, the updated Air Code will streamline compliance, encourage innovation, and maintain rigorous public health standards.
DEP has already made great strides in this landmark undertaking. New rules will phase out the dirtiest heating oils used in city buildings — Numbers 4 and 6 residual oils. Heating oil contributes 14% of all fine particulate matter to the city's air, creating more soot pollution than all cars and trucks in the city combined. Through the help of the departments of Health, Buildings, the Mayor's Office of Long-Term Planning and Sustainability, and the New York City Council, these new regulations require that all boilers in New York City burn low-sulfur No. 2 oil or natural gas through a phased-in approach: any newly-installed boilers will be required to only burn low sulfur No. 2 oil, natural gas, or equivalent. But all boilers will be required to switch from No. 6 oil to the new low sulfur No. 4 heating oil by 2015, or to an equivalent cleaner fuel. Existing boilers that have not been replaced by 2030 must be modified to meet the equivalent emissions of burning low sulfur No. 2 oil or natural gas.
While changing the heating standards of city buildings is a substantial victory, it represents only one part of a larger process that began in earnest in 2010. Working with several stakeholder groups that have included the Urban Green Council, the Department of Buildings, and architectural and engineering industry stakeholders, DEP has been engaging various groups throughout the city. DEP has found industry stakeholders who are ready and willing to engage in a productive partnership. "We don't want to drive any businesses away," said Mike Gilsenan, Assistant Commissioner for Environmental Compliance. "We need those businesses in
New York."
Many such businesses occupy mixed-use zones and properties, which must strike a balance between the needs of residential and business communities. With more than 5,000 automotive repair businesses in the city, DEP manages a permitting structure that must allow business to flourish while also maintaining the health standards of surrounding neighbors. Automotive repair garages are only one prominent example; the quality of the air inside is as important as what New Yorkers breathe outside. Together with the Health Department, DEP will ensure that emissions from businesses meet these same exacting standards. This is especially crucial given that countless New Yorkers live in multi-purpose buildings that contain businesses. It is therefore essential that DEP make compliance as streamlined as possible, while also accommodating various innovations in clean fuel technology since the Air Code's inception. The health of New Yorkers depends on striking that proper balance.
"The socioeconomic benefits are immeasurable," Mike said. "Our job is to make sure that all of our partners are on board with this." By the end of 2012, DEP and its partners within and without government will have completed a process that is long overdue — but welcome nonetheless. Thanks to those partnerships and the groundbreaking commitment of PlaNYC, the question of whether New Yorkers can breathe easy will no longer be up in the air.